Even Oprah Can't Work With Lindsey Lohan?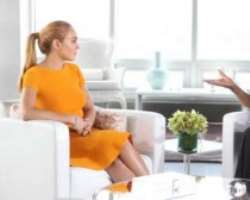 Entertainment mogul Oprah Winfrey has finally agreed to air film star Lindsey Lohan's new reality TV show on OWN Network but not without hesitation. The very warm TV host reportedly had issues with the actress' indecisive work ethics. But even though the difficulties, the show is set to debut on March 9, 2014.
In a new clip off the show, screened for TV critics on Thursday, Oprah said, 'This is just what everyone warned me would happen (working with Lindsey). And it is.' Further reports claim the film star refused to take part in the scheduled filming and Winfrey told her point blac, 'My truth is, I really do want you to win but if that isn't what you want, I'm okay with that. I will tell these guys [producers] to pack up and leave today.'
Lohan later agreed, 'I know this is my last shot at doing what I have to do.' Oprah reportedly offered Lohan $2 million for the eight-episode reality series - which follows her as she struggles with sobriety and attempts to relaunch her career - in return for her first post-rehab TV interview on Oprah's Next Chapter.
The star appeared on Oprah's Next Chapter last August where she admitted struggling with alcohol and the law but she exposes more in one of the scenes of her own show, 'There's nothing left in having a drink for me. There's no party I haven't gone to, nobody I haven't hung out with, no situation I haven't been exposed to,' Lohan tells the camera. 'I don't want them [paparazzi] following me to an AA meetings I feel like a prisoner.'
Catch Lohan's new TV show on the OWN Network come March 9.