Will Chris Brown Ever Find Peace Again After Rihanna-Saga?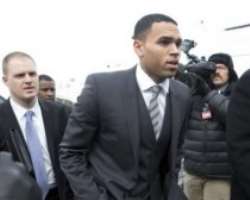 Singer Chris Brown has been in a court-ordered anger management rehab in California since November for assaulting ex girlfriend Rihanna in 2009; a case which was further reviewed by the Los Angeles County judge last month landing him more 90 days in rehab. Now, the singer has rejected a plea deal offered to reduce his misdemeanour assault charges for allegedly punching a 20-year-old man near the White House in October. A charge which if now, found guilty, he'd likely spend 180 days behind bars.
Brown arrived at the District of Columbia Superior Court in Washington on Wednesday alongside present girlfriend Karrueche Tran to face the reduced misdemeanour charges which he still insists he's not guilty of.
According to police reports, the victim - identified as Parker Adams - claims Breezy said, 'I'm not down with that gay [expletive],' and 'I feel like boxing,' before being assaulted. Both Chris and his bodyguard, Chris Hollosy, rejected a plea deal because they say they're not guilty.
Brown's lawyer, Mark Geragos told reporters yesterday, 'It was rejected because he's not guilty. I've seen everything I need to see in this case, so with the absence of prosecutors turning over video footage of doing it, there's little or no chance of any plea deal.'
Geragos said investigators searched for surveillance video of the alleged sidewalk smackdown shortly after Brown's arrest but came up empty-handed. Meanwhile, prosecutors said they eventually uncovered some type of related surveillance footage, but they declined to elaborate as they promised to quickly hand it over to Brown's lawyers.
Besides spending 180days in prison if found guilty of these charges, Brown could also get more jail time if the Los Angeles judge decides the Washington incident violated his probation for beating Rihanna. However, his lawyer said Wednesday that he would file a motion to get Brown excused from the February 20 appearance because he needs to focus on his rehab recovery.
'My client is presently in a residential program and loses three days of treatment just doing the traveling' Geragos told the judge.
Will Breezy ever get out of this mess he put himself into? What do you think?