Nigerian Media Personality, Gbemi Olateru-Olagbegi Advices Ladies On Relationship And Money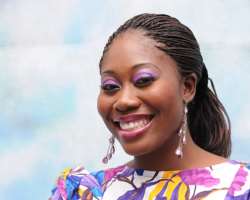 From the look of things, it is like our celebrities are talking from experience, some days ago singer Toolz took to twitter to advice ladies to be independent, and not to depend on men, now another celebrity has come out to advice women again but this time is to talk about relationships and not to ask for too much from your man.
Nigerian media personality, Gbemi Olateru-Olagbegi took to Twitter hours ago to tweet on transactional relationships. She said "This notion that if a guy spends money on you, you owe him sex is sick. That's why I say it all the time – Never demand for material things from anyone- No one owes you anything. Work hard. Get yours.
No one should say to another – I paid for dinner and bought you an LV bag. Oya come and sleep over at my house and pay back in kind. Ladies- Stop asking men to buy you things. Men- Stop buying things for ladies in the hopes that she will sleep with you."
After sending out a couple of 140-characters messages, the responses started coming in. Many of her followers replied her, saying she was being too American by sharing the tweets.
According to them, "Relationships work in Nigeria when there is money- money for hand, back for ground."
Is that really true?
Click the link below to go to...
Tonto Dikeh's Police Arrest Threat**I Never Abandoned A Movie Set For Another--Tonto
UNCOVERED ! THE 3 REASONS RAP STAR,MI DENIED HIS MARRIAGE PLANS TO ERICA OKUNDAYE
Davido Flaunts N10m Cheque Online**Apologises For Act
ADESUWA COST ME 18 MILLION NAIRA SAYS JOHN ABUA.
VIDEO: Mercy Chinwo Becomes Nigerian Idol Winner**As Show Fails To Produce First Male Winner