WHY NIGERIANS MUST PATRONIZE LPG, BY AWWAL ILO, PRESIDENT, LPG ASSOCIATION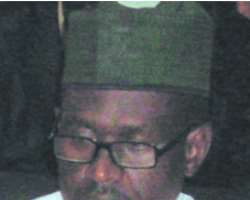 Why Nigerians must patronize LPG, by Awwal Ilo, president, LPG Association
From CHRISTIAN OCHIAMA, Abuja
Thursday, March 11, 2010
Awwal Ilo
The level of consumption of liquefied petroleum gas otherwise known as cooking gas in Nigeria according to experts is less than desirable. A combination of factors account for this. And they include concerns about cost, safety and availability. This is even as others consider its use as elitist.
What all these considerations mean for the Liquefied Petroleum Gas Association is bad business. And they are no longer finding it funny. With less than 70,000 metric tonnes consumed in Nigeria, the association said it puts Nigeria behind countries like Benin Republic per capita.
The president of the association, Alhaji Awwal Ilo in this interview puts in perspective the constraints and challenges the industry is facing. He also proffers the way forward.
Why we met with the Minister of commerce
Our association is committed to the efforts geared towards deepening the use of liquefied petroleum gas in Nigeria. We are here to see the minister on how we can collaborate with government ministries and agencies so as to get some incentives in terms of establishing LPG related industries in the country.
Before seeking government assistance, what has your association being doing to enhance the use of LPG?
This is what we have just started now, to create the awareness, to enlighten the public. We are trying to bring about the issue of safety, health and environment. As the minister mentioned, until recently we had a lot of issues with LPG. Now the supply situation has been resolved. We have two additional depots in Lagos. We have more planned to be established. We have a lot of more cylinders being  imported. We are now trying to see how the local cylinder manufacturing plants can be re-activated. And this is why we are here to see the Honourable Minister.
What is the level of consumption by Nigerians of LPG?
The average consumption is about 70,000 metric tonnes which makes Nigeria the least in Africa. Even Benin Republic consumes more LPG than Nigeria per capita. And this is what we want to change. We are trying to meet the target set by the federal government to attain the level of one million tonnes in the next five years by 2014. And that is what we  are trying to do. We are confident that we will be able to achieve that. We have the population, we have the market. It is just to create the awareness and all the necessary logistics to make them available and at affordable prices.
Assuming Nigerians respond positively to your efforts, do you have the capacity to ensure steady supply?
We have more than enough supply now. We have existing working coastal facilities. We have facilities commissioned last year. We have a new 8000 metric tonne facility which is soon to be commissioned. We have the sahara gas which we bought over from NNPC in Calabar. We have the NNPC facility in Lagos which are all being optimally utilized.
We have a continuous supply of LPG for the last two years from Nigeria LNG. We have two dedicated vessels. As you are aware, the refineries are not working. We are getting our LPG from Nigeria LNG terminal. We have a big vessel that goes to Bonny terminal to pick the product, ships it to somewhere in Lagos then we use a smaller vessel to shuttle between the mother vessel and the terminals. We are now trying to reach every nook and cranny of the country.
There are complaints about high cost. What are you doing about it?
You will realize that the price has stabilized in recent time. Actually it is coming down. The average price is N2,500 for the 12.5kg. And in Abuja, you know that every thing in Abuja is expensive. It is between N3,000 and N3,500. I am sure you must have noticed about a lot of new innovations now. You can see Oando filling plants. We are trying to remove all these bottlenecks we are having at the retail end of it. We are trying to get the product to reach the end users at a price they can afford.
To get the exact quantity at a very reasonable price. And this I believe we will achieve. And the more you have people involved, the more you open the market and the better for everybody. As it is today, the market is very small and that is why I need to mention what has happened to the communication industry, the market opened up. If there are more plants in Abuja, 100, 200 refilling the LPGs, the competition will force the price down. And I believe we will be able to achieve that.
What are you doing about consumers' safety concerns?
Those are mere assumptions. LPG is the safest form of energy. If you look at it, it is under pressure. It has safety devises. If you are observant, it has some smell, if it leaks, you will perceive it. If you allow it, two minutes it will evaporate into the air. Where you have this problem is when you want to transfer from one cylinder to another. Before you have one LPG accident, you must had 100 kerosene or  ordinary fire cases. In most cases, LPG alone does not create fire.
May be it is only where there is fire in a particular place and you have a cylinder. In collaboration with the department of petroleum resources of NNPC and the Ministry of Information, we are now trying to come out with jingles, to educate Nigerians on how to manage their cylinders. Don't keep them  in the kitchen. Keep them outside. The safety issues, what you are expected to  do when you perceive any gaseous smell. The safety measures attached to it. All you need to do is to be careful and observant. In the last how many years, we have not had any LPG incident.
What is your association doing about the initial cost of acquiring LPG equipment?
I think the minister made a very valid observation. The entrance cost is very exorbitant. A cylinder, a hose, a regulator and so on. The average amount you need is between N15,000 -N20,000. Whereas kerosene with N3,000 you are ready to start using it. And this is what we are looking at .We have made appeal to government to remove all the necessary tariffs that would make these appliances cheaper. We are looking at different cylinder schemes.
All over the world, LPG is being subsidised. We have done a lot of conversion programmes, bring your stove I give a cylinder and any body who starts using LPG will hardly ever go to any other product no matter how scarce, no matter how difficult. What we are trying to do is  to get people switch over from kerosene or firewood to LPG. In the long run it's cheaper and cleaner. A N3,000 cylinder will surely last longer than N3,000 firewood or even kerosene for that matter. The major obstacle is the start off cost. We are looking at a national cylinder scheme that will give consumers access to these cylinders under some kind of arrangement.
We need massive injection of cylinders. We have less than one million  cylinders in Nigeria going by our population. I see a situation where we should have up to ten million cylinders in Nigeria. But we need to have cylinder manufacturing plants, cylinder refurbishing plants, assessories' manufacturing plants that will also stimulate industrial and  commercial activities and create jobs.
What is the capital outlay for this kind of industry?
Depending on what you want to produce, its capacity. But the one Oando has is between N22 million and N23 million.