Nigerian Evacuated From Bangui, Including Anambra Citizens Among The Returnees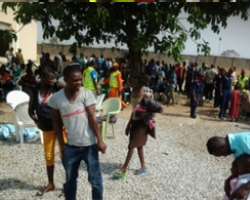 The Federal Government on Saturday evacuated 474 Nigerians from the crisis-ridden Central African Republic.
The evacuees, mainly women and children, arrived the Nnamdi Azikiwe International Airport, Abuja at about 5.30pm.
Our correspondent gathered that three flights were sent by the Federal Government to ferry down the citizens from the troubled nation.
Arik Air had two flights while one was by the Nigerian Air Force.
A total of 199 persons joined Arik's first flight, 168 came with the second, while the NAF flight evacuated 107 Nigerians.
Nigeria's Ambassador to CAR, Prince Roland Omowa, told journalists at NAIA that the evacuation became vital following the prolonged crisis in the Central African nation.
He said, "We had hoped that the crisis in CAR would calm down but it did not and this made many Nigerians rush to the Nigerian Embassy.
"We had to contact the Federal Government and requested for evacuation and since yesterday the exercise has been going on."
Omara stated that no casualty had been recorded since the commencement of the evacuation process.
The Director-General, National Emergency Management Agency, Mr. Sani Sidi, said the evacuees would be sent to their respective states through their state emergency management agencies.
Before Saturday's evacuation exercise, a total of 365 persons were flown into Abuja from CAR on the preceding day.
The Permanent Secretary Federal Ministry of foreign Affairs, Dr. Martins Uhomoibhi, and officials of NEMA were on ground to receive the returnees.
Uhomoibhi stated that over 2000 people were to be repatriated from the troubled country.
2014-01-06 090624
2014-01-06 090637
2014-01-06 090658
2014-01-06 090711
2014-01-06 090722
2014-01-06 090730