Jonathan: We'll not allow any group or persons to hold Nigeria to ransom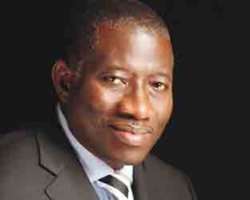 President Goodluck Jonathan on Sunday said that no group or persons should be allowed to hold Nigeria in ransom.
According to him, the job of keeping Nigeria safe from the machinations of men of evil was the collectively responsibility of all Nigerians.
The president spoke yesterday, during a church service at the Church of Christ in Nations (COCIN), Area 1, Abuja.
He urged all Nigerians to join hands in the fight to liberate country from the hands of evildoers so that this generation could bequeath a better future the children yet unborn..
He said, "We are particularly committed to know where our challenges are, especially in some parts of the North, we are quite pleased with the measures from the outgoing president and the measures of the incoming president concerning Boko Haram.
"We sympathise with those who have been affected by the executions. Boko Haram is temporary, Boko Haram will surely go. A number of countries are facing similar challenges and some have been able to overcome it and surely we will overcome Boko Haram.
"Life in the North must change; development must go to all parts of this country. Nobody or group can hold this country to ransom. We will collectively liberate this country from the hands of any evil person."
He added that despite the security challenges in the North as a result of  violent activities of the outlawed Boko Haram,  life should change for the better and development brought to bare in the region.
The president urged the people not to confuse the political noise going on in the county to mean that the country was heading any crisis, pointing out that that is the very nature of politics world over.
He said that the political environment is always noisy all over the world even in advanced democracies like the United States of America.
He said that in US  not long ago, the country was almost shut down and for so many months people were worried that the country that had practised democracy for so many years could get to that situation.
He added, "But that is politics for you. But let me reassure you that we will continue to work harder to improve the quality of lives of Nigerians. Anything you start, there is always a time. If you want to build a single storey building, it must take you some time to build. We are building one small mini private banquet for the president in the State House…. with a great company like Julius Berger what we thought will take six months is getting two years."
Meanwhile, the Police Affairs Minister, Caleb Olubolade, who spoke to journalists after the service, called on all Nigerians to give their full support to Jonathan's administration. On the Ekiti State governorship election billed for this year, Olubolade, who is from the state, called for the conduct of free and fair election. "It is usual that when election is coming around, people are agitated, they are troubled. Everybody wants to outdo the other. It is a natural thing, so it is not out of place. But as soon as we get closer, things will start to take shape. It is in our interest that we conduct a free and fair election. It is in our interest that we recognise each other's capability and believing that when a winner emerges, we should take it in good faith," the minister said.