Kate Winslet Just Gave The Sassiest, Most Glorious Interview..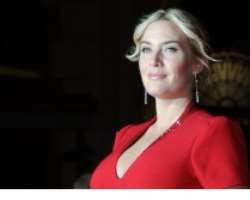 Kate Winslet is pretty darn incredible, right? Of course she is. Sure, she has some slip ups here and there, like, for instance, naming her son Bear, but for the most part, she is supremely amazing. And that is precisely why you need to read this interview she just did with Glamour, friends. For the pure, unadulterated amazingness.
On giving her son her last name:
'We haven't ever really had that conversation; it was always going to have my name. Mia and Joe [her other children] have it as part of their name, so it would be weird if this baby didn't. Of course we're not going to call it RocknRoll. People might judge all they like, but I'm a f-ing grown-up.'
On losing her baby weight:
'Having just had a baby, I'm not going to be thinking about my arse.'
On the criticism she received for having three children with three separate husbands:
'No one has a right to comment on anyone's life or the choices I do or don't make. It's very easy to be judgmental until you know someone's truth. People have no idea at all. It baffles me, truly, that you can publicly treat a person like that. It's not very nice. I'm really sorry to the nation's press that I fell in love and got pregnant; I do apologize if you deem that irresponsible.'
You tell 'em, Kate. You tell 'em all. Hopefully we can get you some kind of formal award for that 'having just had a baby, I'm not going to be thinking about my arse' comment. Thanks for being a beautiful inspiration for all the whole world.