Rita Dominic Turns Movie Seller At Lekki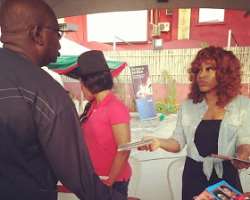 The movie industry, according to recent indices, is falling in terms of patronage of films being churned out on DVDs and CDs. Instead of buying the original release, movie buffs go for the pirated copies which are packaged in a 10-in-one DVDs.
Even at the cinemas, Nigerians prefer to watch foreign movies which have better storylines and deliveries. These foreign movies also take their viewers' consciousness away from the make-believe world into the real world while watching them, which is one thing Nollywood is lacking.
At the recently concluded Lekki Phase 1, Lagos Festival, star actress, Rita Dominic used the occasion to turn herself into a movie seller. While the event was set up for residents of the area to have fun, Rita saw the business side of it and gladly grabbed the opportunity to sell DVDs of her film, The Meeting.
Rita got a stand at the event and personally sold the movies to those at the event. Ini Edo, who is a resident of the area, was also at the carnival as well as Kate Henshaw.