Enterprise Bank targets first-tier status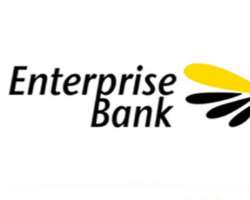 Enterprise Bank Limited, one of the three nationalized banks, has said it was poised to becoming one of the top banks in the country in 2014.
A statement by the bank said the Managing Director/Chief Executive Officer, Enterprise, Mr. Ahmed Kuru, stated this during the bank's end of the year thanksgiving prayer in Lagos.
Kuru, who was represented by the bank's Executive Director, South, Mr. Niyi Adebayo, said every staff member of the bank who made it to the last month of the year, customers and other stakeholders had every reason to appreciate the goodness of the Almighty God who is the beginning and end of everything that was achieved during the year, both collectively and individually.
The programme, he said, was organised in appreciation of God's favours, especially during the 2013 financial year.
The CEO said he was convinced the bank and its staff members would experience better things in the New Year.
The  statement  by the Head, Corporate Communications, Olusola Longe-Okenimkpe,  quoted him as saying, 'Looking at the theme for this year's Enterprise Bank Family Fellowship and annual thanksgiving, which is 'Celebrating the Goodness of God,' I feel highly delighted and satisfied standing here to assure you that you have nothing to fear as long as we have God on our side.
'We are looking at the handwriting on the wall and I can assure you that the bank is destined for greater glory in the New Year. So, irrespective of the tough times we passed through in 2013, I can tell you that we have every reason to thank God.'
A former Managing Director of Assemblies of God Savings & Loans, and also a senior pastor of the Four Square Gospel Church, Rev Wale Alaka, who delivered the sermon, expressed optimism the bank would break barriers in the new financial year.
He admonished all not to relent in believing in the powers of the Almighty God, stressing it was the only guaranteed way to growth and stability