Zenith Bank celebrates with children at Xmas youth carnival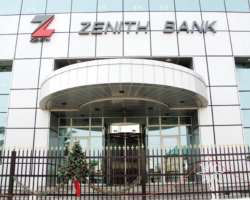 As part of its strategic corporate social responsibility aimed at supporting the development and education of the Nigerian child, Zenith bank Nigeria Plc, last week treated children from different schools in Lagos to another elaborate feast during this year's Christmas youth carnival.
The event tagged Build the child, Build the Nation, was held at the corporate headquarters Ajose Adeogun Street, Victoria Island brought children from many schools together.
The youth carnival which is in its 8th edition is designed on one hand to occupy the youths meaningfully during the yuletide season through funfair and youth development activities. And as it turned out to be this year's carnival lived up to its bidding as children were entertained and some talents discovered during the dancing competition.
The entire street of Ajose was barricaded on a Sunday morning, and as early as 9am, staff, school pupils, the young and old dressed in colourful Christmas costumes or branded Zenith T-shirts lined up raising high their schools' banners for the commencement of the annual carnival. They paraded the length of Ajose Adeogun back and forth. There were lots of ice-cream, bottled water, packed juice and oranges placed in strategic places along their route while music blared from some of the floats that accompanied the parade.
There were cultural displays by Obitun dance, Swange dance, Itshekiri dance, Samba dance, Zulu dance, Stunt dance by body language, Ekombi and masquerade dance, Slsa/Chacha, Xylophone by Chief Felix. While music maestro Olumide added colour to the day with a scintillating performance that drew applause from the audience. The event eventually kicked off with a rendition of the national anthem by children of Little Saints Orphanage, and after that the Zulu dance group ushered in the managing director, Godwin Emefuele who declared it open.
In his speech, Godwin Emefiele,who was the chief host of the occasion thanked the children for coming. 'We are delighted to have all of you here. I say thank you for coming. This is our own way of partnering with the children, who are the future of tomorrow. This is our opportunity to partner with you and encourage you great men and women of tomorrow.'
The managing director further explained that the carnival was in partnership with the youths and the old who work in the bank so that both groups could interact and draw inspiration from one another.