HON ROTIMI MAKINDE CHIDES CRITICS, MAINTAINS NOLLYWOOD IS MORE THAN 20 YEARS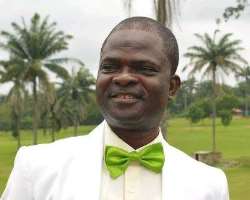 'My attention has been drawn to some misguided statements being championed by some hatchet men on the social media. I hereby restate my position that Nollywood is not 20yrs. My opinion is very clear on the celebration of Nollywood at 20. I would love to welcome people's reaction on issues raised and not for the paid canvassers to attack my person.
It is an open secret that film industry or theatre activities is more than 20yrs in Nigeria, for this narrow minded class of disgruntled elements to measure my performance based on theatre industry is hypocritical, delusional and total ignorance that befit mischief makers. I have not failed in my obligations to the people of Ife Federal Constituency who repose their confidence on me as their representative at National Assembly.
The meritorious roles played by Ojo Ladipo, Moses Olaiya, Chief Hubert Ogunde etc, cannot be said to be irrelevant as far as Nollywood is concerned. These great men recorded milestones that attracted international awards for about 40 years now.
Yes, Nollywood is acknowledged as a veritable alternative to oil in the country with lots of challenges;ranging from lack of funding to absence of a formal regulated structure, piracy, internal crisis, retraining and inadequate distribution network among other factors.
Despite these challenges, the industry has positioned itself as key information dissemination and image-making tool in Nigeria and Africa at large.It has also transformed into a veritable vehicle for social change, providing jobs for over 300,000 Nigerians, in all spheres of the production and distribution process.However we must learn to stick to facts.
The success recorded so far by the 7th assembly is collective, my roles and inputs as a legislator are there on record, I need not celebrate numbers of motion and bills facilitated by me so far, or to re-echo my commitments and generosity to my people in form of empowerment. Certainly it is not a news for any blackmailer or distance paid agent who can never see anything good in anybody unless whom they live on like a leech.''
Hon Rotimi Makinde,
Deputy Chairman House Committee on Human Rights.