Mysterious object is flying toy not drone, says owner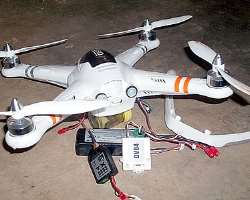 The object mistaken in reports for a spy drone is flying toy after all.
Media reports had indicated that a spy  drone suspected to owned by US had crash landed in Ibadan.
But the inventor of the alleged mysterious flying object which crashed into a house in Awotan, Ido Local Government area, Ibadan, Engineer Sunday Folayan, has said that the object was quadrocopter and one of the many flying toys in his custody.
Our sister publication, Sunday Tribune, published the story.
The Nigerian Tribune, which sister publication Sunday Tribune, had earlier reported the object as a Us drone, reported on Monday that  Folayan owned up the object.
The paper quoted the inventor as saying that  he was  a 'proud Nigerian' and could not be used against the interest of Nigeria.
He denied any links with the US, adding that he was only satisfying his hobby.
Folayan made this disclosure in an interview with the Nigerian Tribune on Sunday, saying the alleged flying object was 'a fun toy that went wrong.'
He said 'I am an orbits person with passion for flying objects which I usually operate within my environment, but since the one in question is a quadrocopter which has better stability we decided to calibrate it. It was very unfortunate that it flew out of control specifically on Sunday, December 22. However, I informed my neighbours but was embarrassed when I discovered that it had been linked to espionage.
'I don't know where they got their fact from but I think it was exaggerated. Even if espionage is involved, it should be handled with caution and left for the experts. It is not in the interest  of both countries, USA and Nigeria, I don't work for the two countries either but I'm a proud Nigerian and I believe we should all work for the development of our great nation.'
The caretaker chairman, Ido Local Government, Professor Adeniyi Olowofela, said there was no cause for alarm.
According to him, the security agents were abreast of the development.
Although he said his observation of the object as a physicist clearly guided him to believe that it could not be a drone from US with the attached battery capacity. Olowofela, in his submission, said he rushed down to the scene of the incident before he discovered that it was a toy. He stated that there was no plane crash, no case of espionage in the local government area as reported.
Olowofela, said that the media men should have contacted the local government before going to the press with such potentially explosive information.
He enjoined media men to exercise especially in cases involving two countries, saying that a report like the one on the alleged drone crash could portray the US as a spy and could also strain the relationship between Nigeria and the US.