Obi disagrees with Elechi over National Dialogue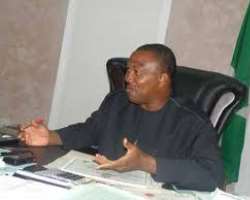 Governor Peter Obi of Anambra State on Sunday said contrary to the view expressed by Governor Martin Elechi of Ebonyi State, the proposed national dialogue is very critical at this time in the history of Nigeria.
Obi, who spoke after a church service at St. Anthony's Catholic Church, Umudioka, Anambra State, said President Goodluck Jonathan should be commended for his courage and statesmanship in trying to organise the national dialogue,
Elechi had earlier declared that the proposed national dialogue would be a waste of time and resources.
But Obi, who said he was avoiding a direct confrontation with Elechi, said 'It is about time we told ourselves the truth. There are many things in the country that need clarification, definition and agreement.
'It is better we sort out those things through the meeting of minds, rather than arbitrariness of strife and dissension.'
The Anambra governor said those who were opposed to the dialogue might have been ill-informed about the dialogue.
On Elechi's position on the dialogue, Obi said, 'Elechi is a father to us Governors in the South-East. I have not spoken with him on the comments credited to him.
'I believe very honestly that the comments were sensationalised. He is a man of wisdom who chooses his words before uttering them.
'I cannot comment on what he said or did not say until I speak with him to know the context in which  he spoke.'
Stressing the need for everybody to give total support to the  initiative, Obi insisted that the time was now for Nigerians to sit down and deliberate about the future of the country  in order to chart a new course for  enduring peace, stability and progress.
The mass at St Anthony Catholic Church, Umudioka was to mark the centenary celebration of the advent of the Catholic Church in the area.
On the centenary celebration, the governor said it was time for self re- dedication for increased evangelisation of the people, peace and reconciliation.
Earlier in a sermon, the Catholic Archbishop of Onitsha, Most Rev. Valerian Okeke noted that the coming of the Church won many souls for Christ, brought education and produced many professionals, including Francis Cardinal Arinze.
On the theme of the mass, the archbishop described the family as one of the most important gifts of God to humanity and charged family members to be alive to their responsibilities at all times, as well as contribute to the growth of the larger society.
At a different church service, Obi reiterated his call for prayers for the country . It was at a thanksgiving mass at St. Peter's Catholic Church, Awka.