THAT OPEN LETTER OF OBASANJO TO JONATHAN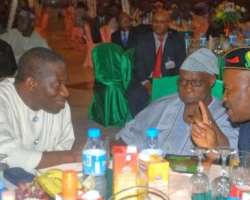 Refer to Nigeria the Guardian Newspapers Thursday, December 12, 2013, front page. It is vividly stated: Obasanjo writes Jonathan. Four issues were raised by the former President Obasanjo:
- Nation adright, corruption stinks around him
- warns against President's re-election bid
- condemns him for backing non PDP candidates
- declares confab fraught with danger of chaos
Let us assesses the issues raised by OBJ one after another:
1) Nigeria adrift, corruption stinks around Jonathan
It may be quite true.
Nobody may successfully argue on this. N542 billion naira is deduced missing in Sure-P Account. I think the exact figure is 49.8 billion US dollars. Can you imagine it. Do you know what is 49.8 billion US dollars? It can settle Nigeria to a very great extent. All the Governors are more than corrupt and are demigods in their states. They appropriate State funds to themselves and cronies. Down to the Local Government level, the Chairmen are demigods and personally redirect Governor's approved part to themselves and families and cronies.
What should we say of Federal Ministers and directors of Ministries? Corruption is horrific in Jonathan's administration.
But wait a minute before you crucify Jonathan. Is Jonathan the sole reason for the corruption? Certainly NO. Rather, he condemns it. But the only nag is that he surrounds himself with scavengers whose only know-it-all is stealing. These include all his Ministers, all Governors, all Commissioners, all Directors and Permanent Secretaries, all Local Government Chairmen, all Counsellors. There is corruption every where. OBJ is 100% right.
But OBJ himself is 100% corruption made flesh. For 8 years Obasanjo ruled Nigeria, he did not appoint Petroleum Minister. That means that more than 3 trillion US dollars was misappropriated by Olusegun Obasanjo. Can you imagine that? If IBB in all his corruption and ocean of looting the economy did near Obasanjo in that staggering amount. What of 20 billion US dollars NEPA fund in 2003-2004? What role did he play with Imoke who is Governor now? What of missing oil money in 1978 with 2.8 billion naira, equivalent to 5.6 billion US dollars by then, which translates to many trillions of US dollars now?
Justic Ayo Irikefe in 1983 found him guilty of squandering the money. What of all the oil monies between 1999-2007 which he – OBJ allotted to himself and cronies? What of Halliburton and Siemens scandal?
So, why should OBJ open his mouth on Jonathan on corruption issues? Why? Is OBJ the right person to fight corruption? Bible says "remove the mot from your own eyes first, before you can see clearly to remove that in the eye of another".
2) Warns Against Jonathan's Re-election Bid
This is 100% laughable. What do you say of OBJ? A man Jesus gave to rule Nigeria twice, a rare chance only very few men on earth have had and will ever have. OBJ has been in the corridors of Power since 1967. He ruled Nigeria between 1976 – 1979. Instead of fixing Nigeria, OBJ was busy nursing the avaricious ambition of tempering with the Constitution to entrench his 3rd term bid, where the Constitution clearly stipulates maximum of Two Terms for everybody.
Jonathan is still in his first tenure. He has 100% right to seek for Second Tenure. What is wrong with it? It is only after 2019 that if Jonathan seeks to tamper with the Constitution for Third Term that we can all stand up and fight him as we fought OBJ.
3) Condemns him for backing non-PDP candidates
That is his choice. He has not offended anybody nor contravened any rule for doing so. It could be better for the so-called Nigerian democracy.
PDP = People Deceiving People
= Permanent Deceit Persists
ANPP = Another Nothing for People's Progress
APC = Another Party of Corruption
CPC = Certainly, Part of Corruption
So, I ask: What is the difference between: PDP and APC; between PDP and ANPP; between PDP and CPC? Is it not pot calling kettle black?
Nigeria gravely needs 100% Revolution staged by the erudite Nzeogwu to leap-frog from the present quagmire of corruption.
Nigerian military is 100% superciliously corrupt, and laid the foundation of corruption and squandering public funds in Nigeria between July 29, 1966 – May 28, 1999. So, when we talk of Revolution let nobody remember Nigerian Military. The Resolution we are talking about is a 100% DIVINE intervention using anybody deemed fit to cleanse the a Aegean stables called Nigeria. It is not a military action. But you cannot pocket GOD. If JESUS as GOD, says military action is the solution, who are you to say no?
Let us remain open to GOD who is JESUS CHRIST to save Nigeria. The likes of Obasanjo, Buhari, Babangida, Abacha and Abdulsalam, all military, are 100% disgraces to Nigeria and are doyens of corruption.
4) Declares Confab Fraught with Chaos
Obasanjo, here, shows the stuff he is made of. What is the outcome of the Oputa Panel he instituted? What did he do with it? OBJ could have used the Oputa Panel Confab to correct Nigeria. But because he has never intended anything good for posterity, he was organizing it to foster his Third-Term, and not to correct Nigeria.
The present Confab is 100% in favour of Nigeria and for the good of Nigeria. The problem we should express is the willingness of Jonathan to fully implement it so that it will not go the way of other surrogate confabs since July 29, 1966 till date. We all have stakes to ensure this one works to salvage Nigeria.
I suppose the problem OBJ has with Jonathan is that the later frustrated the former from life Chairmanship of PDP Board of Trustees.
COMRADE KINDNESS INNOCENT JONAH:
AN ASTUTE HUMAN RIGHTS ACTIVIST THAT FIGHTS AND WINS INJUSTICE ANYWHERE FOUND IN THE GLOBE. HE IS ALSO IN FACE BOOK.
+234 – 803 – 6662 - 901 & +234 – 809 – 5957 - 698
Disclaimer:

"The views/contents expressed in this article are the sole responsibility of the author(s) and do not necessarily reflect those of The Nigerian Voice. The Nigerian Voice will not be responsible or liable for any inaccurate or incorrect statements contained in this article."
Articles by Kindness Innocent Jonah