Nollywood Actress Benita Nzeribe Now An Ambassador To Federal Airport Authority Of Nigeria (FAAN)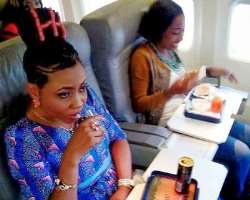 It is no longer news that many of our entertainers are delving into other big deals apart from acting or singing, they do not wish to remain in one spot all their lives so they have to do something else to show their potentials.
Nollywood top actress Benita Nzeribe was recently named an ambassador to Federal Airport Authority of Nigeria (FAAN). The actress had the entire day to work with the crew who made good use of the Nigerian airport facilities and structures.
The actress is not only working for FAAN, but also extends her tentacles to Nigerian Airspace Management Agency (NAMA), as she is now starring in a Television commercial for the agency. Organized by the MD of the agency, Engineer Nnamdi Udoh, the TV commercial was shot at the Murtala Mohammed Airport 2 on Friday, December 20, 2013