JONATHAN TO RUN WITH IBB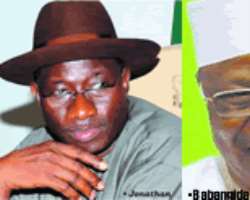 2011
Jonathan to run with IBB
Wednesday, March 10, 2010
A very dependable source  told Daily Sun: 'Jonathan was made to understand that there is no way the North would not feel short-changed if another Southerner becomes president in 2011 after eight unbroken years of Obasanjo presidency. In any case, Jonathan is still seen as a light-weight politician, his acting presidency position notwithstanding. As a form of compensation for him,  the group moved to persuade IBB to run with him.'
Babangida's candidacy is being advocated specifically for the same reasons Obasanjo was made president in 1999. According to our source,  because these are very testy times, 'We don't want a trial and error scenario. We need a man who has been there before, a man who knows the challenges of the office. A stabilising  figure, who is reasonably accepted in different parts of the country. Of all the former heads of state, IBB appears the most acceptable.'
However, the group pushing for the IBB/Jonathan 2011 ticket appears split down the middle. While a rump of the Yar'Adua  group appears to favour an IBB presidency, they are not favourably disposed to Jonathan in the political calculation. Some powerful  political gladiators,  Daily Sun further gathered,  are vehemently  against a Jonathan presidency or vice-presidency beyond 2011. Their grouse, according to our source,  stems from the 'untidy' manner the Acting President allegedly handled the Yar'Adua issue. His words:  'Jonathan behaved double-facedly in the issue of the ailing President. While, on the one hand, he pretended to be in sympathy with the embattled President, on the other hand, he was stoking the fire and engineering the processes leading to his eventual declaration as Acting President.'
Another group in the power calculus also appears favourably disposed to a Babangida/Orji Kalu ticket n 2011 or Babangida/Peter Odili  pair. The reasoning is that both Kalu and Odili are consummate grassroots politicians with a large following and acceptability in different parts of the country.  But Jonathan  is likely to clinch the vice-presidency ticket under Babangida because of the powerful forces in the Advisory Council rooting for him.
The  Yar'Adua  group  seeking a soft-landing for its members are also sharply divided over who takes over from the ailing leader if he eventually makes it to 2011. While  some key members of the group feel comfortable with a Babangida presidency,  other strong voices would prefer a serving Northern governor as presidential candidate, with Chief James Ibori, former Delta governor  as running mate.
Even though he's yet to make a public pronouncement on his rumoured presidential interests, Daily Sun investigations reveal that the former military president may have braced up to the challenges of running  for the exalted office in 2011. He has been consulting different interest groups as well as Nigeria's foreign allies who seem disposed to his return to the office he left 17 years ago. Towards this end, Babangida is expected to travel out of the country this weekend on a routine medical check-up. 'But he will be consulting with some Western powers on the way forward for Nigeria and his role in the post-Yar'Adua era,' our source confided.
How these contending forces and power-§play would play out before Nigeria's crucial 2011 elections remains to be seen. And Nigerians,  stupefied at the game of wit and intrigues hovering around the power circuit, watch with bated breath.