Nigeria, Biotechnology And Culture Of Fear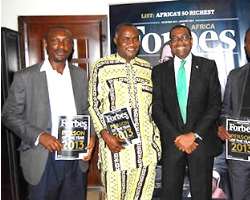 Nigeria currently runs one of the largest bureaucracies in the developing World so much so that there are over three dozen cabinet level ministers working in the Executive Council of the Federation headed by President Good luck Jonathan and yet poverty is at a scale unimaginable in human history even with high revenue from the abundant crude and mineral resources that Nigeria is endowed with.

But from amongst this unwieldy cabinet of the current Federal Government made up of people whose anti-people activities have consistently spread massive poverty, there are still very few persons who due to their widely acclaimed achievements in their respective fields of calling as competent professionals, are widely respected by a cross section of the usually critical segment of the civil society and the Nigerian Human Rights community.
One among the few very reputable statesmen that works for the current Federal Government is the current holder of the office of the Federal Minister in control of the very strategic portfolio of Agriculture and Rural Development Dr. Akinwunmi Ayo Adeshina.
The ministry of Agriculture under the current dispensation has understandably remained relevant in the scheme of things as one of the most vibrant and resourceful agencies of the Federal Government especially in the area of enforcement of mechanisms that promote transparency and accountability in service delivery.
Prior to the emergence on the political scene of the minister of agriculture, that place was known as the most notorious cesspool of corruption and economic crimes perpetrated by top government officials in cohort with criminally minded contractors who divert fertilizers to the black markets and make real farmers suffer huge existential pains to procure these vital and essential farming incentives.
The ministry of agriculture in the immediate past before the coming of Dr. Adeshina who is believed to have truly turned it around, used to be a stinking contraption made up of persons who have barely known real farming works and what it takes to build food security for Nigeria.
On December 10th 2013, I decided to lead a delegation from my development oriented platform to visit this minister of agriculture who has won so much acclaim for doing the right thing to at least hear from his mouth some perspectives on how Nigeria can get it right in structuring out workable and effective national strategy to boost food security and productivity in the agricultural sector.
Our visit to the Garki Area eleven Abuja based office of the minister of agriculture on a day set aside for the celebration of the World Human Rights Day was symbolic because we set our theme of the celebration to look at food security as human right just as we deliberately intended to get the minister to clear all the cobwebs of confusion regarding the innovative development in technology as regards modern farming such as genetically modified crops and biotechnology.
So we met the minister who recently bagged the Forbes magazine Man of the year in Africa for 2013 and understandably we started by thanking God for a surprise package to Nigerians that one of us is winning such a very respectable award and you needed to have seen how appreciative he was.
We then announced to him that the Human Rights Writers Association of Nigeria would like to have an interface with him, especially on a day like this which was the International Human Rights Day, and we also told him pointblank that we are aware that he is doing so much alongside his visionary team in the area of food security, making sure that Nigeria becomes food secure because a country that does not have food security suffers adversely from human rights violations. He agreed.
Asked if Nigeria is ripe for genetically modified technology and if indeed this emerging concept has anything to do with food security, and if Nigeria is ripe for that whether we have legal framework on bio-safety regime.
He the minister never minced words in responding in the affirmative and also gave us a breakdown of what Nigeria needs to put in place to be able to reap the abundant benefits inherent in this new scientific and technological methods of farming.
" let me say thanks for your congratulations on the Forbes Award. For every country in the world, as population rises, nations face challenges in terms of feeding their people".
First and foremost, he stated, we have urbanization, so the amount of arable land for cultivation will go down because of population pressure. The second is the fact that because of environmental issues you can no longer expand cultivated areas, so it means you have to intensify agriculture, which means you get more yield per unit area of land, the minister with considerable erudition in the field of agriculture stated.
Adding that without any nation in the contemporary time doing that it cannot not feed either Nigeria or the world. And so we have to apply science and we have to apply technology, said he.
"I think there is a big misconception, and that misconception is confusing everything that is science with GM. That is very wrong. Let me give you clear examples of that; first, biotechnology is very different from GMOs. Biotechnology that we are using for example today in Nigeria include tissue culture. Tissue is what you use to actually grow a lot more of your bananas so that the bananas that you have, instead of planting, you actually just plant the plant legs that come out of tissue culture".
The advantage of that, according to him, is that you don't plant suckers, when you plant suckers year after year you have weevils and nematodes. With tissue culture you can get up to 30, 40 tons per hectare and it's not genetical modified, it's just science, it's called tissue culture.
"Take the case we are working in Nigeria today with the issue of nutrition, access to vitamin A is very crucial. If you don't have vitamin A it causes blindness for children, and so to rapidly expand that the National Root crops Research Institute developed with the support of course of the IITA in Ibadan and the Global Alliance for Improving Nutrition. They developed what is called the pro-vitamin A cassava. Now the pro-vitamin A cassava allows you to get more vitamin A for children, and it's not genetically modified but its biotechnology".
The target of his office, h said, is to reach two million farmers within the next two years with both pro-vitamin A cassava and orange-flesh sweet potatoes.
His words: "Now these are the advances that we are using, I believe that the most important thing for us is not to make that conclusion, I am a scientist and I know the difference. However, for us when it comes to the issue of how you use modern sciences you have to have in place very good regulations. We have to have bio-safety rules, bio-safety laws and regulations in place, things that will protect bio-diversity, it's very important that you should be able to monitor what happens to the environment for any intervention, and most importantly for me, being able to make sure that consumers are aware of what they eat. And the consumer has a right to know whatever it is. So, it's all about protecting our food supply but we cannot be in stone age, this is the modern age". Asked what's the update on the bio-safety bill currently before the National Assembly and he thundered the following in very lovely tones:
"The bio-safety bill is back to the National Assembly to be looked at, i think it has passed the period in which its supposed to have been passed into law so I understand it's made its way back to the National Assembly".
"I really believe we should fast-track the approval of the bio-safety bill because it helps to regulate how certain types of technologies are used, we are mindful of the environment, consumer safety, bio-safety, bio-diversity, they are crucial things that you must actually be aware of so that you can also do the proper risk assessment. You can't work in the blind, so you need regulations for many of these things. We are in a modern world we are not an island, but then you got to be able to manage this in a responsible way.
I am a big advocate for it to be passed quickly", he announced. Asked if he is aware of some misconceptions surrounding the issue of GMOs with regard to environmental issues, issues of religion and whether there is a sinister plot somewhere to depopulate Nigeria through GMOs and he laughed it off in very gentle manner and responded scientifically although in such a way that the uninitiated can understand.
"Well, I don't believe in conspiratorial theories. Every nation must feed itself, every nation must make the right decision for what is best for it, and those decisions cannot be made by others for them. Nigerians are very smart people, a very educated people, so nobody anywhere whether Europe or anywhere can tell Nigerians what technologies to use to feed themselves. We make those decisions but we are responsible enough to have in place good science, good regulations, and good risk assessment to determine what to do".
Sounding very modest, the agriculture minister stated as follows; "Take mobile phones for example; somebody can easily tell you that mobile phone causes cancer in the brain, people were writing all over the place, have they stopped using mobile phones because of that? Everything in life, you can decide you want to go to Europe or America by donkey because it is more friendly, it doesn't have carbon emissions, at least not so much, or you choose a plane to go there, when you take that plane it's a risk, so it's always managing what the benefits and risks are.
You can never say I am not using modern technology, then you 'll be in the stone age, when people want to look for how people used to be classified in time then they will point to us, no, we are not going to be that type." Among the many topical issues he spoke about with our team, the minister took us on the controversy surrounding the Federal Government's decision to reach the real farmers directly through the telephone communications and no longer to rely on hear say and stories fed the government officials by Abuja based fake farmers.
His words; "Well, first and foremost let me say when it comes to the issue of mobile phones, the issue is not the phones, the issue is the system we are developing, and why? When I was appointed minister I found in this country what was the most corrupt fertiliser sector you would find anywhere, the government was spending hundreds of billions of naira on fertilisers, they were not getting to farmers. Between 1980 and 2010 we spent roughly N873 billion on fertiliser subsidies, and not more than 10 per cent of it got to the farmers.
So which means about N776 billion literally developed hands and legs and walked away. Now when you talk about right to food, you cannot secure right to food if you are not producing food. Majority of the people that need the right to food that need access to affordability of food are in the rural areas. The fundamental thing you need is guarantee them access to seeds and fertilisers and other farm inputs, if they are not getting that all you are doing is breeding a poverty industry".
Dr. Adeshina spoke further; "And i said no, this is a very corrupt system. To the credit of President Goodluck Jonathan, he put his 3000 percent support behind my call for a reform in that, and it took us exactly 90 days to clean up the corruption of 40 years, we took the government totally out of the system, I don't sign a fertiliser contract, I don't sign a seed contract, I will never sign one until my job is done because it's not the job of a minister to be doing that. You go to rural areas you find Fanta, you find Pepsi, you find Coca-cola, does the government buy them?
Does the government distribute or sell them? So what we found was a sector that was actually not supporting farmers, and when we took the government out of that, the next thing I must be able to reach those farmers directly and cut away all the middle men making money for decades at the expense of farmers. That was why we moved to the most powerful tool for doing that, which is mobile phone. With your mobile phone I know you.
We launched the nation's first ever registration of our farmers, in fact I must say, we started last year, this we've already registered 10 million farmers. And not just register farmers, we know who they are, where they are, what their needs are, we also have these farmers carrying cards, they have identity cards, so we know who they are".
He explained other pro-transparency initiatives of his office in the last two years as follows; "Then we decided to launch the electronic wallet; it allows us to send funds to our farmers for subsidies, for seeds and fertilisers directly on their phones and they can use that to go and buy seeds and fertilisers from agro dealers that are very close by to them. We started last year. When you are building a house, you first build the foundation, we reached 1.5 million farmers last year when we started.
To give you an indication of the impact in every average farm house is about five people, each of those farmers got two bags of fertiliser, and seeds we gave free of charge, that means we are impacting on about seven million people in terms of providing food security. This year we reached five million farmers. So we reached almost close to six to seven million farmers in two years via the phones, directly reaching them. If you check even the lower figure, six million average family times five, that is thirty million people whose food security has improved because we bought seeds and fertilisers directly and we cut out corruption.
It is accountable, it is transparent, it is impacting, and by the way, Nigeria is the first country to develop an electronic wallet system for reaching farmers, not just in Africa but in the world, today, all African countries are coming here. Just a few weeks ago President Kikwete of Tanzania asked his people to come here and copy that model. Other countries are coming too-Kenya, Ethiopia, India, Brazil and China. Think about it, a country that was derided as having one of the most corrupt fertiliser system is today exporting transparency. That is the scale of the transformation that I am talking about. When it comes to the benefits of phones for farmers, I don't know what people get so excited about on this issue. Via these phones we are reaching millions of farmers on farm inputs, on the same phone, I will reach you with extension information.
To reach millions of farmers you have to hire thousands of people as extension workers, where is the money going to come from? But I can send you information on where to plant, what to plant, when to harvest, what the market price information is, I can send so much information to a farmer today. We are in a modern world, we've left that world where people were using town criers to carry information around, and I am determined that Nigerian agriculture will be modernised."
On food security he stated thus; "I don't believe there is dignity in depending on others for your food, because the same land they have, the same farmers they have, the same sunshine they have, God gave us too, so why are they able to use theirs to produce food to export to us, and why are we importing from them?
The more you import from others, your national security is at stake, your farmers are not getting money because the farmers in other countries are benefitting, you are not using your population to eat the food you are producing locally, you are using your population to eat the food of other countries. You are growing others' economies while destroying your own you are exporting jobs to them while your own people are walking on the streets. That is what this government is doing. I can't expect that we will fix the problem of 50 years in 24 hours".
At the end of a very fulfilling deliberations, the team came out with the impression that indeed there is light at the end of the tunnel of people with such formidable academic and credibility records are given the opportunities in this increasingly materialistic political environment of Nigeria to serve patriotically with the active support of the civil society, then sooner rather than later we will get there. We will continue to offer positive reinforcement to such good people provided they remain resolute and determined to serve the poor people of Nigeria and lift them into their better selves through transparent and accountable policies.

Emmanuel Onwubiko; Head, Human Rights Writers Association of Nigeria blogs @www.huriwa.blogspot.com;http://www.huriwa.org/.
2013-12-19 132144
2013-12-19 132154
2013-12-19 132210
2013-12-19 132220
2013-12-19 132231
2013-12-19 132238
Disclaimer:

"The views/contents expressed in this article are the sole responsibility of the author(s) and do not necessarily reflect those of The Nigerian Voice. The Nigerian Voice will not be responsible or liable for any inaccurate or incorrect statements contained in this article."
Articles by Emmanuel Onwubiko