APC mulls summit with Obasanjo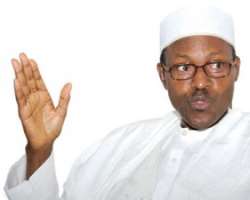 The leadership of the All Progressives Congress (APC) has disclosed that it would meet with former President Olusegun Obasanjo to explain the purpose of forming the new party.
A former Head of State and a chief of the party, Gen.  Muhammadu Buhari, said this in an interview with journalists at the residence of a former Vice President, Alhaji Atiku Abubakar, in Abuja on Wednesday.
Buhari said the leadership of APC had been visiting other notable Nigerians and that it was time to also pay a visit to Obasanjo.
He said,  'We have been visiting others like the G7 Governors; we have visited former heads of state, and we intend to visit former President Olusegun Obasanjo any time he is available, to ask for understanding and brief him on why we formed the APC.'
He said that he was happy with the discussion the leadership of the party had with Abubakar, who he said had promised to discuss with his supporters and political associates before taking a decision on whether to defect from the ruling Peoples Democratic Party to the APC or not.
'I think Atiku has spoken to you about what we discussed with him now, but he said he will get back to us later,' Buhari added.
At a meeting, Abubakar told his guests that he would consult with stakeholders and consider the invitation by the leaders of the party to join the party, just as he threw his weight behind a two-party system in the country.
'I have given them an indication that I will call a meeting of all my supporters across the country and we will take a decision and tell the press,' he said.
The leaders  of the APC led by its Interim National Chairman,  Chief Bisi Akande, had visited the Abuja residence of the Turakin Adamawa and asked him to defect to the APC.
Roll call of the delegation at the Wednesday's meeting included, a former Governor of Lagos State, Asiwaju Bola Tinubu; Governor of  Borno State, Alhaji Ibrahim Shettima; a former Speaker of House of Representatives, Bello Masari; Senator George Akume; former Minister of Aviation, Femi Fani-Kayode; a Chief Ogbonnaya Onu; former chairman of the Economic and Financial Crimes Commission, Mallam Nuhu Ribadu; and Senator Kabiru Gaya.
Akande had earlier in his remark, said the party decided to meet with Atiku against the background that 'our country is being rubbished, we feel  that it is necessary to meet people of like minds to rise up and salvage the country.
'All of us that met here are comrades in politics from time to time. We only met today to cement that comradeship, and all is well cemented and we are moving together to work for this country.'
Abubakar recalled that some of the members of the delegation that visited him had been together in politics for about 24 years.
'It is time we realise we have a responsibility to our generation and those yet unborn,' he said.
He lauded the delegation for the formation of what he called 'a long expected great party,' adding that the APC had true internal democracy that would satisfy the yearnings and aspirations of its members.
Abubakar referred to the African National Congress in South Africa, reiterating that 'as strong as the ANC is, its internal democracy is unparallel. I have seen where there is healthy competition without bitterness.
'If the South Africans faced apartheid, Nigeria is facing colonialism, the struggle has been long for the enthronement of democracy.' - Punch.