Yul Edochie Now best Actor of the Year 2013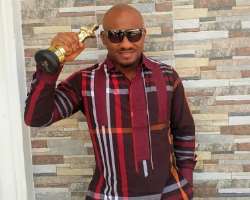 There is no doubt that Nollywood top actor and son of veteran actor, Pete Edochie, Yul Edochie has paid his dues in Nigerian movie industry with several excellent role interpretations. He was recently rewarded for his hard works at the just concluded Papyrus Magazine Screen Actors Awards (PAMSAA) in Abuja. Yul was named the Best Actor of the Year 2013 at the second edition of this awards exclusively meant for actors.
Others who walked away with various categories of awards that night include, Van Vicker, Jackie Appiah, Prince David Osei, Martha Ankomah, and many others.
PAMSAA is a child of Damsas' Mega Business Limited, the publishers of the Famous Papyrus Monthly International Magazine.
The mission of The Papyrus Magazine Screen Actors Awards, established in 2012, is to acknowledge and honor the accomplishments and contributions of the Actors in the categories of movie, comedy, media and world music. Furthermore, its mission is to provide a forum for songwriters, performers and musicians recognizing them for their artistic efforts and achievements. The impetus behind the awards is a commitment to promote greater participation and acceptance of movie, comedy, media and music World internationally.