Music - Banga By Durella Ft. May D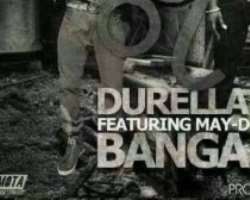 Afro Pop singers, Durella and May D, team up to drop a thumping Afro Pop single. Titled 'Banga', the song has Phuja mixing and mastering.
'Banga' goes the way of many Nigerian tunes. Durella and May D are similar in styles, with their uniqueness blurred, even though they blend together admirably.
Also known as 'King Of The Zanga', quite some time has gone by since we last heard a release from Durella. The last time being his bitter, 'intellectual theft' row with D'banj. Teaming up with May D for this new tune is a good move, which is bound to give him much more appeal among a dwindling fan base.