INCREDIBLE! Late Prophet Adewole's Prediction About TB Joshua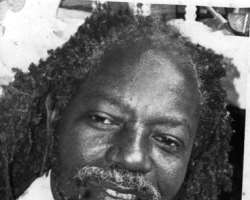 Picture of the late Prophet Adewole
T.B. Joshua means different things to different people. To some clerics who are envious of him, he is an agent of Satan, a magician or an occult healer. To many intellectuals, he is an intriguing marvel, a wonder man of the 20th century. To the thousands who have been healed and delivered through him, he is a gift to mankind. Yet, in spite of all these, the question remains – who is Prophet T. B. Joshua? Is he an ambassador of Jesus Christ or of the devil?
God only reveals His top secrets to those He loves. He revealed the coming of our Lord Jesus Christ to Prophet Isaiah. In the same vein, Jesus Christ revealed who Prophet TB Joshua is to His beloved servant, late Prophet (Dr.) Akin Adewole, shepherd of the Celestial Church of Christ, Opopo Igbala Parish, Ikola Road, Ipaja, Lagos sometime in 1995. The following excerpts from the press release which Prophet Adewole consequently issued on the 'Man in the Synagogue' in 1995 can be said to put to rest the seemingly endless controversy surrounding who T. B. Joshua is.
"I was attending to people in my office one day when three journalists entered; the three of them came from three different media houses. They asked, "Prophet Sir, we see and know you to be one of foremost Prophets of God in Africa today. Millions of people are looking forward to your comments because you are the only prophet who has never commented on the subject?" At this point, before they mentioned what they really wanted and the man in question, our Lord Jesus Christ appeared to me from the Altar in my office on a golden, very beautiful and mighty chair. He commanded me not to join fake, jealous and envious prophets to say blasphemy against a fellow messenger of God.
'The Man in the Synagogue is mine. He is your spiritual colleague. He is not fake. His power is not mixed. I do as I please. You are all working for my glory on earth. Do never disown or desert him. Truly he is young in age, but my spirit in him is pure and great. His grace is special. Many will fall through him, while others will rise through him also. Advise him always like a son, friend and colleague and do not judge him at all because God is the only judge. I reveal this to you because you fear, adore and do my wish always. I love you' – and He disappeared.
I then turned and faced the three men again. And I started telling them all God told me about the man, Temitope Joshua, in the Synagogue, Egbe, Lagos. They were marvelled and become embarrassed. Then one of them said, "Daddy, we believe you, but we want you to see him conjure with his hand. He is using mixed powers. Two other top prophets and the head of witches have promised to test and punish him." I told them that all the witches and prophets on earth cannot even face an anointed man of God. I even warned them not to join the unbelievers that are fighting God through his prophets. After that they left".
Prophet Adewole
By all standards, before his death, late Prophet (Dr.) Samuel Akin Adewole belonged to the group of eminent ministers of God in Africa. Among the Nigerian notable prophets, he belonged to a class of his own for his accurate predictions. The ascetic man of God Prophet Adewole was born on August 25, 1936 in Ibadan to Chief & Mrs. Adekanbi Adewole. He had his primary education at CMS School, Alugbo- Olowo, SDA Aiyede, all in Egbeda Local Government Area of Oyo State. He subsequently had his secondary education at Idi-Ito and Ibadan Grammar School respectively. Between 1962 and 1964, he obtained his GCE O/Level and Advanced Level Certificates. He later attended Yorkshire City University, U.K, from where he bagged his first degree in accountancy and a master's degree in economics. A chartered banker with AIB Certificate, Prophet Adewole also had an honorary doctor of divinity degree of the Stanton University, Tampa, Florida, U.S.A. An ebullient personality, Prophet Adewole worked for many years as a banker before finally settling down in the vineyard of God.
Prophet Adewole became a member of the Celestial Church of Christ in 1961. According to the highly revered late Prophet, "God uses whoever He wishes to and in His own way too, not minding the religion you belong to or your educational background. When it was God's time to call me for His work, He did exactly that." Going by the consistency and accuracy of his past prophecies and predictions, people saw Prophet Adewole's predictions as reliable as the Word of God. It was on record that he was the only Nigerian prophet who foresaw the death of late Prophet (Pastor) S. B. Oshoffa, the Founder/Spiritual Leader of the Celestial Church of Christ Worldwide in 1985. He also was the only prophet who predicted the death of Chief Obafemi Awolowo in 1987. In addition to that, he was the only Nigerian prophet who categorically predicted that former Nigerian Military President, General Ibrahim Babangida would quit office unfailingly August 28, 1993.
In 1995, the late prophet prophesied that "a young man from Nigeria would be highly anointed, such that all the nations of the world would embrace the mighty God through him." He said a time would come that the Synagogue Church of All Nations will become a Jerusalem in Nigeria, such that the number of foreigners would outnumber the Nigerians attending the church. It is pertinent to note that at this stage The Synagogue Church of All Nations was relatively unknown on the international stage. However, going by the happenings in The Synagogue Church of All Nations at present, one can convincingly say that most of these prophecies about T.B Joshua and his ministry have come to pass. Today, The Synagogue Church of All Nations Sunday services seat up to thousands of regular worshipers and visitors alike, with countless thousands more viewing through Emmanuel TV. The thronging to The Synagogue at Ikotun-Egbe, Lagos, Nigeria, by pilgrims from many nations of the world significantly justifies the appellation, 'Church of All Nations.' These truth-seekers are not just sun and fun-seekers or mere tourists to Africa, but are with a mission of hunger and thirst for righteousness. More than any other church in Nigeria, The SCOAN boasts of many foreigners among its workers and worshippers. Notable world leaders from all walks of life have visited The Synagogue – and with this herd, it may not be long before foreigners actually outnumber Nigerians in this unique ministry.
The man: TB Joshua
Prophet T.B Joshua was born on June 12th, 1963 in small village of Arigidi in Akoko, Ondo State, Nigeria. The pregnancy period of his mother was by no means ordinary, as the baby remained in her womb for 15 months before he was born. Significantly, almost 100 years prior to his birth, it had been prophesied that a young man would emerge from the poor Oosin quarters and that God would use him mightily. Another remarkable event occurred when he was three days old, as a large builder stone crashed through the roof of his house, missing the baby by mere inches. This incident led to his mother naming him, Temitope; meaning "what you (God) have done for me is worthy of thanks."
During his elementary education at St. Stephen's Anglican Primary School, Arigidi, he was the leader of the student Christian fellowship. He was the smallest in the class but he led the prayer during the school devotions and was known as "Small Pastor." He was unable to complete his secondary education due to poverty. Reflecting on his early life, he said "I found myself in a family background that irritated me. My natural circumstance of birth was poverty. I come from a very humble background. Poverty loomed large in the family. The little education I had was through self effort. I know many people with a similar circumstance of birth who did otherwise. They allowed their circumstance to influence their will. Their dreams crashed on the rocks of disappointment, failure and setback… In those early years of my life, I knew I would be blame for what I gave my attention to."
How God anointed him
As described in his own words, T.B. Joshua recounts how he discovered the direction of God's calling for his life: "I was in a trance for three consecutive days, and then I saw a hand that pointed a Bible to my heart and the Bible immediately entered my heart. Then the awareness came and I saw the apostles and prophets of old with someone whose head I could not see because he was tall to the heaven and suspended, which I believe was our Lord Jesus Christ sitting in their midst. After a while, I saw a hand of the same tall man. I could not behold his face, which was glittering with an unimaginable light, tall to the high heavens and suspended in the air. But other apostles I could see their faces, particularly Apostles Peter and Paul, Prophets Moses, Elijah and others. Their names were boldly written on their chests. I heard a voice saying, "I am your God; I am giving you divine commission to go and carry out the work of the Heavenly Father." At the same time, the same hand of the tall man gave me a small cross and a big Bible, bigger than the one that entered my heart with a promise that as I keep pressing in His time and name, I would be given a bigger cross. But if I fail, the opposite would occur. I also heard a voice of the same tall man; I could not see his head, saying, "I am the Lord your God who was and who is Jesus Christ, giving orders to all the apostles and prophets." The same voice said to me, "I would show you the wonderful ways I would reveal myself through you, in teaching, preaching, miracles, signs and wonders for salvation of souls." Since then, I have been receiving in my vision every year according to my faithfulness to God, a bigger cross that means to me more responsibilities. The Bible that entered my heart symbolized Spirit and life (the Holy Spirit). God's Word is spirit and life. He does nothing without His word.
It is clear Prophet T.B Joshua is one of the most universally visible, acclaimed and perhaps the most persecuted Prophet of God of our time. He draws his unique supernatural powers from a combination of his total obedience to God's will and his steadfast faith in Jesus Christ. His lifestyle is characterized by friendliness, warmth and openness, as well as courtesy, humility, magnanimity and generosity – such qualities that can be found only in truly anointed men of God.
SOURCE: Streetwise Magazine, Nigeria – Issue 2
|
Article source