Lynxxx - 'I Really Like Chidinma'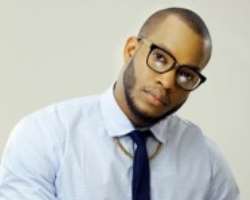 Sexy Nigerian rapper, Lynxxx, feels strongly for Chidinma. In an interview today at the Pulse.ng/PulseTV HQ, the Syndik8 records CEO confessed of his love for the petite singer.
'Chidinma is my celebrity crush', Lynxxx revealed.
'She's cute and tiny, and she has a powerful voice. I think that's attractive. I haven't done a song with Chidinma because I'm shy. I'm really not a shy person, but around her, I am shy.
'Like I walked into an embassy a month ago, and who do I see?' Chidinma. She's sitted right there, and I hugged her, and she's just so tiny. I'm 6'2, I'm a big guy, she's tiny, and she fits right into my hands. Come on baby, let's make it happen.'
Lynxxx has always been very expressive of his feelings for 'Miss Kedike', and we just wonder when she'll come around to reciprocating them. Maybe next year.
Chidinma and Lynxxx, will they make a great couple? Tell us what you think.