Subsidy: Tukur's son, Mahmud, others re-arraigned over N1.8bn fraud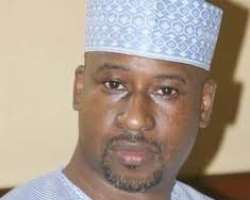 The Economic and Financial Crimes Commission (EFCC)  has re-arraigned Mahmud, son of Chairman of the Peoples Democratic Party, Alhaji Bamanga Tukur,  and others for alleged N1.8bn fuel subsidy fraud.
Mahmud was charged with Alex Ochonogor, their firm, Eterna Plc; and Abdullahi Alao, who is a son of Ibadan-based businessman, Abdulazeez Arisekola-Alao, before a Lagos High Court in Ikeja presided by Justice Lawal Lawal-Akapo on  Monday..
The re-arraignment of the accused persons who were initially arraigned before Justice Onigbanjo on July 26, 2012 followed the transfer of the former trial judge,  Justice Adeniyi Onigbanjo,  out of the Criminal Division of the Lagos State Judiciary.
.
All the accused again on Monday pleaded not guilty to the nine counts of conspiracy and fraud preferred against them by the EFCC.
After the defendants took their plea, Justice Lawal-Akapo ruled that the accused be allowed to continue enjoying the earlier bail granted them by Justice Onigbanjo.