Nelson Mandela's 'honorary granddaughter' opens up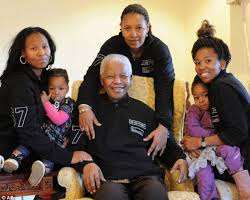 Nelson Mandela's long-time private assistant and "honorary granddaughter" spoke on Monday of her deep love for the man who changed her life forever, though at great personal cost.
Zelda la Grange, who came from Afrikaner middle-class obscurity to become the right hand of South Africa's first black president, spoke to a private broadcaster of her love for the man she called "Khulu", a shortened form of grandfather in Mandela's maternal isiXhosa tongue.
The pressure was relentless, she said — following Mandela around the world, organising his every move and shielding him from the never-ending stream of people clamouring for a moment in his presence.
But she would never have swapped the experience for a chance at a regular family life.
"I deeply loved him," La Grange told 702 Talk Radio of her mentor.
"I don't think you are ever prepared enough," she said of his death on Thursday at the age of 95.
"You are still shocked and saddened when the time comes. We had prepared ourselves emotionally but still we are overcome by this feeling of loss and sadness."
In the latter part of his presidency — which ran from 1994-99 — and thereafter, La Grange became a regular feature by Mandela's side.
Her devotion surprised some, given her origins in the Afrikaner community that had jailed Mandela for 27 years under the apartheid laws of racial segregation.
She has been widely hailed in recent days for her loyalty to Mandela.
"We owe our gratitude to her," Defence Minister Nosiviwe Mapisa-Nqakula said on Sunday.
"She sacrificed her youth, her time. I don't think she had a boyfriend. It's time for us to express grateful appreciation."
But La Grange said she felt uncomfortable with the use of the word "sacrifice".
"You cannot use 'sacrifice', 'Nelson Mandela' and 'Zelda la Grange' in the same sentence," she said.
"My sacrifice is something I missed maybe as a result of working so hard, (it) can never be compared to what Mandela gave."