December 10, 2013

| AMEBO
Ex-hubby, Daniel Ademinokan, tears actress Doris Simeon apart in secret memo to family pastor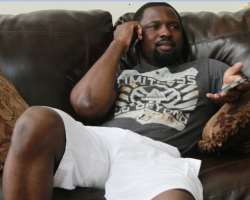 If you think the last has been heard of the celebrated marital mess of celebrity couple, actress Doris Simeon and Daniel Ademinokan, you definitely will be shocked at reading the latest of the diatribes coming from the latter.
An email message sent to www.nollywoodgists.com had revealed alleged secret memo from an angry Daniel to a certain cleric who possibly would be the family's Pastor given the confidential nature the message was passed across to the pastor.
The message is portraying Daniel as appealing to the pastor to untie him from a long silence he had maintained since he broke up with Doris. The star movie producer, in the message, seems to be ready for a showdown with her estranged wife, especially bothering on the controversy on the custody of the only fruit of their union, a male child named David.
Below is the electronic message, which not only portrays Doris as a liar on the child custody issue but also alleged her to be an unfaithful wife while their romance lasted.
Please, read...
From: DANIEL ADEMINOKAN <***@**.com>
Subject: Fwd: Pastor Mi
Date: June 4, 2013 05:49:07 PM EST
To: Pastor Ituah Ighodalo <**********************[email protected]**com>;
Daniel Ademinokan
www.***************************************.com
I Am Too Blessed To Be Stressed
On Tuesday, June 4, 2013 5:47 PM, Daniel Ademinokan <**********************@**.com> wrote:
Good day sir,
How is the family sir and the ministry. I hope all is well. I know that by now you're probably tired of my case but you are the only one I can speak to at this point.

It seems sir that the moment Doris speaks to everyone and brings out her 'acting' people just flip and turn.

Nobody sees when she calls and threatens and curses the life out of me and everything else. But I always have taken it with a pinch of salt.

Like you said sir, she has a right to be angry and do anything but I equally have a right to have my son and look out for his best interest. I have a right to be angry and run to the press to talk about all her infidelity and affairs but I chose not to because I was the fool who looked away because I wanted to keep my home. I was the one playing mumu for her.

After all the lies she told in court am I still supposed to just be granting her every single request and need? She lied that she has not seen David and I since 2011. This is the same girl that came to Abuja twice to see David and I. The same girl that I flew to Lagos to see personally and privately to discuss David's custody. This was in January. We also met in London in March when I went to shoot a music video. I have pictures to prove it. I even gave her money to shop as well. It was in London she told me about her new affair with Wale. I didn't crucify her, I just told her to be careful and find true happiness, period! What she does with herself is really none of my direct business.

Pastor, based on what you and I discussed, I offered to fly her to the United States twice a year, all expenses paid for by me so she can bond with David. I also said she can come 1 million times if she likes but I will only pay for two trips. She refused. Now she still wants to be calling me every second to bother me about David in private when she is making a mess of my character in the press and the public. She is using everything and everyone out there to mess me up and I'm supposed to still give her audience and grant all her wishes?

Pastor, na this girl life I go tie my whole existence to? How can I continue to be civil with her when she is playing dirty and acting holy to everybody?

Nobody is seeing what I'm seeing and it is just a pity. She does not care about David. She is doing all this gra gra just to save face. She wants to ruin David's life all in the name of Winning!!

Pastor, below is a conversation I had with Doris before your trip to the US that we spoke. How does this show that I have been mean to her? How does this how that I kept her away from David. She used to talk to him every single day. The dates are right there and she has just been lying to everyone. I was forced to send this to you because I am just tired of all her endless lies and pretense.

I've refused to speak to her since because she cannot be killing me on both sides. If she wants to talk and dialogue, she should get outta court and stop messing me up in the press with her media sugar daddies. If she wants to stay in court, I don't have a problem with that. She should leave me alone and do according to the court rulings. That means she should leave me alone till July!