HURT LOCKER IN FINAL SPRINT TO WIN OSCAR RACE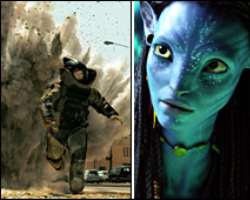 By Tim Masters
The final countdown to the 2010 Oscars has begun, with The Hurt Locker and Avatar going head-to-head for the coveted best picture award.
James Cameron's 3D sci-fi juggernaut, which has taken more than $2bn (£1.32bn) at the box office, had looked like a favourite in early 2010.
But his ex-wife Kathryn Bigelow's Iraq bomb disposal drama is now being tipped in Tinseltown to take the prize.
Both lead the way at Sunday's Academy Awards with nine nominations each.
If the Hurt Locker wins, it will be the lowest-grossing best picture winner in Oscars history with earnings of around $15m (£9.9m).
But with 10 films in the running for best picture and a change in the voting system, the way is still open for a major Oscar upset.
Quentin Tarantino's eight times nominated World War II fantasy Inglourious Basterds could benefit from a split vote.
British hopes
Cameron and Bigelow also go against each other in the best director category with Bigelow heavily tipped to win.
Industry paper The Hollywood Reporter on Friday predicted wins for Bigelow for both best picture and director.
If Bigelow is named best director she would be first female to win – only four women have ever been nominated.

Sandra Bullock is expected to win best actress for The Blind Side
Jeff Bridges is widely expected to take best actor for Crazy Heart.
The 60-year-old has swept the awards season this year, winning Golden Globe and Screen Actors Guild Awards for his portrayal of an alcoholic country singer.
British hopes in the acting categories include Colin Firth, Dame Helen Mirren and Carey Mulligan.
Firth, up against Bridges for his Bafta-winning performance in A Single Man told the BBC he did not expect to be making an Oscar speech.
"I'm not sure I'll get the chance. I think I might have peaked," he admitted at the Independent Spirit Awards on Friday.
Likewise, Sandra Bullock is expected to win best actress for American football drama The Blind Side.
But she has close competition from Meryl Streep, whose role in Julie and Julia has earned her a record 16th Oscar nomination.
She is also up against Carey Mulligan, whose Bafta win for An Education raised her profile in the final few days of voting.
'Christmas for movies'
Meanwhile Dame Helen Mirren, nominated for The Last Station, told the BBC she was not too nervous ahead of the big night.
"The first time is so frightening and intimidating, but once you've done it once you know the nature of the beast," she said. "But they do it incredibly well here in America. It is the great celebration of film – it's like Christmas for movies."

Wallace and Gromit creator Nick Park is hoping to win a fifth Oscar
The best supporting actor and actress awards seem to be already in the bag for Christoph Waltz (Inglourious Basterds) and Mo'Nique (Precious).
All of which leaves stop motion animation heroes Wallace and Gromit as one of Britain's best hopes of taking home an Oscar.
Nick Park, nominated in the short animated film category for A Matter Of Loaf And Death, is in line to win his fifth golden statuette.
He said: "What's really difficult is I've read that Wallace and Gomit is favourite but you can't afford in yourself to get too confident, and you've got to imagine things not working out so you enjoy the evening.
"But obviously with four already, I won't be that disappointed."