ENTERTAINMENT SET TO TAKE CENTER STAGE AGAIN IN BENUE STATE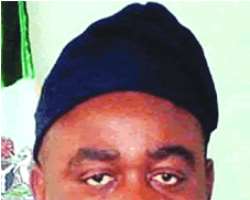 Entertainment set to take center stage again in Benue State
By samuel olatunji
Sunday, March 07, 2010
Gov. Suswan
Long before now, you'd be forgiven if you thought the only thing Benue State is known for is food. But after what has happened in entertainment in 2009 you still think the only thing to be associated with Governor Suswam's state is the food basket appellation, you might be unpardonable.
Last year, the state vibrated with different shades of entertainment events ranging from Democracy Day concert, Benue Music Festival, and Benue Night of Music and Comedy.
This year holds bigger promises for the state as the Love Idoko- led Dream Pointers has rolled the drums out for Democracy Day concert again. According to the CEO of Dream Pointer, corporate bodies are beginning to show interest in working with the company in making this year's Democracy Day Concert a bigger deal.
Though work is still going on, musicians and other stars that would grace the show and the organizers are leaving no stone unturned to make the event a huge success. In her words: 'like we said last year, entertainment has come to stay in the state, we are working round the clock to consolidate on our 2009 achievement and help the state government maximize the youths talents that abound in the state'.
Last year witnessed a series of events. Prominent among them was Democracy Day concert. It was put together by Dream Pointers Limited, the company at the forefront of entertainment in the state. The event which took place last year May at the IBB square upped the ante of entertainment in the state. Notable stars such as Nkem Owoh, 2face Idibia, 9ice, Ramsey Noauh, Kefee, Desmond Eliot, Gordons, I go die were all at the event to add glamour and class .
Next came Benue Night of Music and Comedy in November with Gordon, I go die, J Martins, Desmond Elliot with a myriad of locally-brewed stars on hand to do their stuffs. The show which was sponsored by National Agency for Food, Drugs Administration and Control (NAFDAC) had 2face, DG of NAFDAC, and other stars go round schools in Benue State to campaign against the menace of fake drugs. Benue Music Festival followed in January 2010 and it was more like a perfect way to begin the year. The crowd pulling show featured 2face, Basket Mouth, J Martins, Mike Ezunronye, Francis Duru and other local stars at the open-air theatre of Aminu Isah Kontagora Complex .
As a way of showing his readiness to open up the channel of entertainment in the land and encourage local stars, Governor Gabriel Suswam supported the show and showed up at most of the events personally. He had in time past supported Nollywood as well. We all still remember what he did for Desmond Elliot and Emem Isong when they took their movie project, Reloaded to him. His wife, Her Excellency Yemisi Suswam also contributed in no small measure to the growing culture of entertainment when she staged a fashion show that attracted the crème de la crème to the state. Nollywood actor, Jim Iyke hosted the show.