Anambra Election: Osun APC Arrested Fake Observers Must Be Jailed—Adeyeye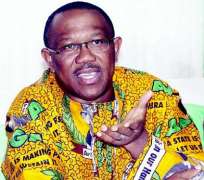 Afenifere Chieftain and Peoples Democratic Party (PDP) governorship aspirant in Ekiti State, Prince Dayo Adeyeye has said that one of the ways for the Independent National Electoral Commission (INEC) to sanitise the electoral system ahead of the 2014 governorship elections in Ekiti and Osun States is to make sure that those 181 All Progressives Congress (APC) thugs from Osun State who claimed to be election observers and were arrested in Owerri, Imo State are jailed.

Adeyeye, who was reacting to the INEC Chairman, Prof Attahiru Jega's insistence during a press conference on Friday, that the 181 miscreants, who claimed to be
election observers and were arrested in Owerri, Imo State were fake as they were not accredited by the commission to monitor the election, said; "If these people are not punished to serve as deterrent to others, one can begin to wonder how many thousands of thugs will invade Ekiti State under the guise of election monitors during the next year election.
Jega had said, "the so-called election observers from Osun State are fake. They did not belong to any accredited organisation. They did not come to Awka, the state capital, where the accreditation took place. They went to camp in Owerri for only God knows reasons. We should commend the security agencies that caught them before they could wreak their havoc.
In a statement issued today, Adeyeye, who reminded INEC how known card carrying members of the defunct Action Congress of Nigeria (ACN) invaded Ekiti State during the 2009 rerun election, claiming to be election observers, said; "INEC must use these ones from Osun State as scape-goats."
The governorship aspirant said it was not enough for Nigerians to hear the news of the arrest of the 181 Osun APC thugs and Prof Jega's confirmation that they were not INEC accredited election monitors, adding that; "Nigeria must see the thugs being sent to jail so as to show that INEC is serious about putting an end to electoral violence in the country."
He said; "In Ekiti State, we have people, who claimed on oath that they set INEC office ablaze, we have INEC officials who were paid N180,000 to void PDP votes in an already conducted House of Assembly election and they were caught while tampering with the used ballot papers.
"However, up till today, we have not heard that INEC has done anything to these people.
"For instance, the man who said under oath that he was the one who burn down the Ido-Osi Local Government INEC office is now an aide of the State Governor, Kayode Fayemi.
"Also, the woman who paid INEC officials N180,000 to void already thumprinted ballot papers because she was going to call for ballot recount at the tribunal was made Local Government Caretaker Chairman by the APC government.
"Most importantly, one Dr Azeez Olaniyan, who was one of the so-called election monitors during the Ekiti rerun election, and also gave evidence in support of Fayemi at the Tribunal was appointed Caretaker Chairman of Ekiti South West Local Government immediately Fayemi became governor.
"Another of the so-called observers, who was caught with already prepared election results and Action Congress (AC) cards has been made Director General of INEC Electoral Institute.
"So, how will Nigerians trust INEC if people who were caught committing grievous electoral offence are allowed to go unpunished?
"The arrest of these 181 miscreants from Osun State has therefore presented INEC with another opportunity to show to Nigerians that it is ready for 2014 and 2015 and the only way to do this is to make sure that these 181 APC thugs are jailed."