I'm Planning To Marry My Babymama Soon--Terry G Reveals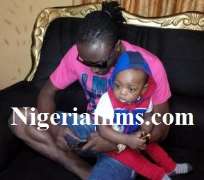 Gabriel Amanyi is the weird singer that answers the stage name Terry G. The singer, who has a lot of street followers judging from his type of music in this interview talk about his life, music and other issues .Enjoy
You released your album a couple of month's back, so how is the album doing the exception?
Well if I should put it this way it's at least selling more than pure water because the exception at the moment so far has been very exclusive and having the fact that people has been receiving most of the songs in the album shows that the album is getting out there so most of the songs in the album are already hits and it's doing well in the market.
So can you tell us the title of the album and some of the hits songs inside?
The title of the album is ''Book of Ginger '' ,it has like 21 to 22 tracks in the album it is a diversified album where I took time to explore some other parts of me not just what the English people know me for but talks about me personally and musically and it has live songs of RnB and atmosphere's different messages
You also did the lunching in Abuja, why the choice of Abuja I believe most of your fans are in Lagos?
Yea , but You know we had some challenges when I was trying to come up with this as well the lunching I have this ground in Nigeria that I have to take some time to breakthrough some other parts of my marking and there was a time I was trying to use Eko Hotel and the bills were too high for me and when I even wanted to partner with some brands, they made it too outrageous for me and I couldn't afford it so I didn't want to give up because I have never done a lunching in my life before so I decided to move it outside Lagos. So, when I tried to convince people it will be success then probably they would give me a section so I decided to do it over there and it's actually been working because after I did it and they heard me so we were getting proposals from brands for it to work it down to Lagos which will be occurring very soon .
We also learnt you are going on an European tour, can you tell us more about it?
Yes , but it actually has to do with my management because all I do is for him to put me in check and I go for the event but I only know it's an Europe tour it's close to a month and it's going to be fun .
So what's happening to your record Label?
So far I've always represented TGP Entertainment record although I didn't loud it that much it's a label owned by myself and all I do is just work with managements so we've been doing well although we as the board members we try to bring up brands but there were some issues as at then which indirectly popped up and along the line we are trying to work on other acts as well apart from mainly just doing collaboration and sharing a lot on the street I think I should do something that I would gain something from personally and for now am the only one on the record label although my younger brother is under my label for now and I don't want him to flaunt it because I want him to create his own brand as well and for now we are still looking for the right artiste to sign in because it has to do with experience so we will not do something that we will start regretting in future
So what is new about Terry G?
So many things. Now I have a child; I'm a father. His name is Amaniyi Rex, and with him added to my life he has given me a new life which is becoming a father . And this has made me to see the other side of life. It has put me in place, because when you are thinking about tomorrow, you will want to be more responsible. His birth has helped me a lot and even helped me to flow away from the odds of negativity and helped me to compose myself and think of the future.
Also, I am focusing on concert and trying to work on our brand by making it accessible and also trying to shoot musical videos.
Why the new look, because we thought that will be the end of Terry G?
I think it was my fault because I had a picture that there was a way I parked my hair when taking the picture so it wasn't showing my dreadlock so I was like dread off so most people took it for the fact that I have cut my hair . So I never cut my hair.
But can you change your style?
Change is constant and that's one thing about life but for now base on the fact that I portray this image I don't think for now I will
You seem to be on a low key of recent, what is happening?
It's just that it gets to a level where maturity comes in and you just have to slow down on something's unlike when one was still a teenager so now that one is mature those things one use to do then becomes distractions .So I became responsible since I had my kid I looked at life in the other way because it worth a lot for one to be responsible as people will like or want to learn from you. So now music is no more a pleasure but a business
A lot of people believe you must take something to be high, is it actually true when it comes to Terry G?
It is not true, most of the people around me will testify to that. The only thing I do is I just smoke my cigarette before going on stage and the only thing I don't do is I don't drink before I go on stage everybody around me knows, because drinking exhausts the energy and I'm this energetic artist that must not take a risk for that . People also know me as an energetic performer so anytime I go on stage I have to deliver
So how are you rocking fatherhood?
It has been fun and I think I am now cool it has given me the chance to relax and think of a positive life as a father. It has helped me to scare away negative friends and is still building as well
So when are you going to take your baby mama to the altar?
Yea, we are making plan for that and when it is time we will let you know
How exactly did you meet your baby mama?
I met her in the United Kingdom. There was a concert I attended in London; it was my first major performance in London. That was where we met. I met her through a friend and we just started chatting. What actually happened was that she got amazed knowing I was Terry G. She wanted to know about me; but when she saw the other side of me, she got interested and realised the difference between Gabriel and Terry G. Now we are able to transform the relationship to a family and I'm more responsible with her beside me.
© 2013 Nollywoodgists.com
Click the link below to go to...
Uche Jombo Shines At ARIFF Awards Night
Celebrity Quote: Eating your cake and having it." – Genevieve Nnaji
Movie-Scarce Star, Halima Abubakar Copying Maheeda?; Flaunts 'Oranges
At Tiwa Savage's Bachelorette Party…Toolz, Emma Nyra,Toke, Eku Edewor, Others Dazzle (Photos)
Yvonne Nelson lights up London for her 28th birthday