CAR SNATCHED IN ANAMBRA STATE FOUND IN LAGOS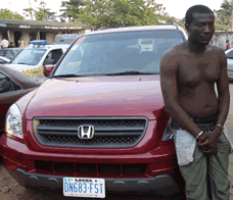 Car snatched in Anambra State found in Lagos
By VINCENT UKPONG KALU
Saturday , March 6 , 2010
Onyeka
Weeping uncontrollably like a hungry baby, Michael Daniel is cursing the day he met Onyeka, his friend that took him to Oko, Anambra State to snatch a car.
Michael, 29, from Ezeilo in Ebonyi State said he was living in Abidjan combining Yahoo-Yahoo business (Internet scam) with selling of second hand wears until Onyeka lured him to come back to Nigeria and join in his business of selling ceramic tiles. When Onyeka was deported from Malaysia he came over to Abidjan to live with him and couldn't cope with the hardship over there because the Yahoo-Yahoo business he was into couldn't sustain him so he had to return to Nigeria.
'When he returned to Nigeria we remained in touch. So when Onyeka felt I had not made any reasonable progress in my business, he called in November last year to persuade me to come back to Nigeria and join him in his business. He told me that he sold ceramic tiles and that he started the business as an importer with N4m capital his parents gave him.' That was the gist Michael got from his good friend that made him come back to Nigeria believing the story to be true.
Few weeks after Michael arrived the country, his friend Onyeka came up with string of lies that the tiles he imported were impounded at the seaport and he was still in the process of getting them released. Michael this time again never worried to gaze into his crystal ball if he had any to read the writing of the trickster on the wall from his bosom friend.
Penultimate Wednesday, Onyeka came up with an idea of a business that has in-built instant kill to pump money into their pockets like magic which would enable them pick the papers and travel to Europe to hit it big. Once again, the gullible friend from Abidjan obliged Onyeka. 'He told me that we would be travelling to Anambra for an important business transaction that would yield money immediately. We left Lagos; I stopped at Onitsha while he went to Awka. In the evening he called that I should come over to Awka where I met him with a Peugeot 504 car and he asked me to join him that they were going to Oko. It was that night while driving to Oko that he told me that they were going to rob to raise money for my travelling abroad. I asked him the nature of the robbery, he said it was car snatching that he has somebody who buys snatched cars so that I get my share of the booty and leave the country.
It was about 8pm and as we were driving along the road, there was a jeep coming from the opposite direction, Onyeka blocked the vehicle, which is red colour 2007 model of Honda Pilot jeep with registration number, Lagos DN683FST. He asked me to go and drag the driver out of the vehicle while he came out with a metal fashioned like a gun. The owner was ordered to shift to the passenger's seat in front and I sat behind him while Onyeka was driving. The man who we learnt is a lawyer out of fear almost passed out. He was pleading that we should not kill him. I told him that we were youths like him looking for a way to survive assuring him that we would not hurt. He almost collapsed because he is asthmatic; probably the shock had triggered an attack.
He requested for his inhaler, which was in the pigeonhole. It was given to him and he implored that I should recline the seat because he had to bend his head for the inhaler to have effect. I told Onyeka to drop the man before he dies. We dropped him and set for Lagos. We bought fuel at Asaba and arrived Lagos early the next morning.'
In the morning while Michael was sleeping, Onyeka told him that he was taking the vehicle to a carwash on 23 Road, Festac Lagos. He was still at home when Onyeka came back and told him that police had taken the vehicle. 'I became very angry with him because this was a double cross. He introduced me into the crime and he had sold the vehicle and collected the money and is now telling me cock and bull story. I left and went to think about my life, which is in tatters. I was at the ghetto area in Festac when police came for me and it was when I came to the police station and saw the jeep I realized that Onyeka had not told me the truth.
Owner sees his vehicle
While the jeep was at the carwash, the person that bought the vehicle and used it for over a month before sending it to his brother in Anambra State lives in Festac. He had been informed by his brother on phone that the car had been snatched. He was passing by the carwash and his curiosity was triggered off when he sighted a jeep that looked every bit tike the one reported snatched. On a closer examination he was convinced that it was his car and he called his brother to remind him of the registration number and it tallied. He immediately raised alarm that attracted plain clothe police from Festac division who took the vehicle away to the station. The high level intelligence employed by the DPO, Usman Ndanbabo, CSP led to the arrest of the suspects.
One man had come to the car wash to inquire about the car when the policemen stationed there in wait arrested him.
The man here in Lagos was called from Asaba to take money to Onyeka, maybe as payment for the car. When he was arrested at the carwash, from his phonebook, Michael was arrested and the police went after the owner of the number that called from Asaba. He was later unveiled as one Festus Omuko a native of Warri, a car dealer that lives in Asaba. Onyeka is still at large and police have launched manhunt for him and the DPO has vowed to smoke him out whereever he may be.