12 vessels wait to discharge petroleum products at Lagos ports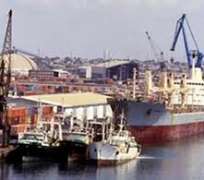 Twelve vessels carrying petroleum products have berthed at the various terminals in Lagos ports.
The information was contained in the 'Shipping Position' of the Nigerian Ports Authority (NPA) made available to the News Agency of Nigeria (NAN) on Wednesday in Lagos.
The vessels are to discharge their products at various terminals including the Single Bouy Mooring, Ibafon, the Atlas Cove Jetty, the New Oil Jetty and the Fishing Wharf.
The NPA said that another vessel carrying containers was waiting to berth at the APM Terminal.
It said it was also expecting 73 vessels carrying various goods from Nov. 13 to Dec. 9, 2013.
It said that 26 of the expected vessels would arrive at the ports with containers, while 13 others would sail in with vehicles.
The breakdown also showed that 10 of the vessels are carrying petroleum products including diesel, fuel, aviation fuel and kerosene.
Nine of the vessels are coming with various food items, while another nine vessels are laden with bulk fertiliser.
The remaining six vessels are expected to arrive at the ports with general cargo.