BABANGIDA TO SUCCEED YAR'ADUA, US NORTHERN CONNECTION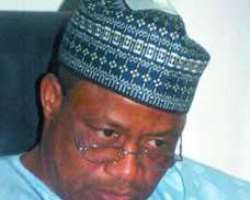 President Babangida 2011
• Forces line behind ex-military president to succeed Yar'Adua
By VINCENT UKPONG KALU
Saturday, March 06, 2010
Babangida
Within the week, when the leadership of the Peoples Democratic Party (PDP) publicly declared that the North will occupy the Presidency till 2015, the coast was cleared for aspirants from that part of the country to oil their political machinery for the 2011 electoral contest.
One of those who may be the direct beneficiaries of that policy is former Military President, General Ibrahim Babangida, especially since it is almost foreclosed that President Umar Musa Yar'Adua will not seek re-election.
Saturday Sun gathered that in the last three months, as Yar'Adua's health problem rocked the nation, many forces, within the country and outside, have been shopping for his likely replacement in 2011. Sources revealed that the choice has been narrowed down to Babangida, a member of the PDP.
It is generally believed that the death of his wife had put a stop to his ambition of returning to Aso Rock but a close IBB confidant said that, the manner Nigerians sympathised with him during his trying period has humbled him the more and if given the opportunity he wants to reciprocate by giving Nigerians quality and good governance. The message of appreciation he sent to Nigerians conveys his emotion on the love Nigerians showed his family. In the message, he stated, 'my dear compatriots, you have once again stood by us at a time and moment when my family and I are need your support, consolation and prayers. No amount of gratitude and appreciation I could offer to you could convey succinctly how deeply touched and grateful my family and I are to all of you… my family is most humbled by these kind words and expressions you conveyed to extol the virtues of my late wife during your visits.'
Last September, three months before the death of his wife, he said he would make consultations before taking a position on the 2011 presidential elections. He then admitted that not only his aides and associates, but various interest groups were mounting pressure on him to return to partisan politics.
Now that the pressure has included the US, would he take a position? Time will tell. Some elements in the North believe that he is not only qualified to occupy the highest political office in the country but is also popular, having been head of state for eight years. Also, foreign countries, which want stability in the country are said to have equally penciled down Babangida for support, ahead of 2011 elections.
The US connection
It was gathered that the United States has indicated interest in Babangida and has actually reached out to him on its thinking. Sources said that the recent visit of a strong US delegation to Nigeria, comprising Jonnie Carson, the country's assistant secretary of state for African Affairs and Robin Sanders, its ambassador to Nigeria is part of the plan to draft Babangida to the 2011 race.
It was gathered that even though Babangida has not come out openly to declare his interest for the 2011 presidential election, the pressure on him is high. Sources said that due to the calibre of forces urging him to join the race, he would buckle eventually.
A source maintained that the US has followed the political situation in the country and has come to the conclusion that Nigeria needs a president who would restore confidence and leadership. It said that many people have been considered.
Sources said that among those considered is Brig-General Buba Marwa, former Nigeria's military attaché to the US and current Nigeria's Ambassador to South Africa. He was said to have been dropped because the US group believes that it may be difficult for the former governor of Lagos State to be accepted by other parts of the country.
It was gathered that Babangida eventually got endorsement after people like Mr. George Bush Sr, who was president in US when Babangida was military president in Nigeria put in words. The Bush Snr. support, it was gathered, informed why immediate past US president, George W. Bush, wanted to meet with Babangida when he visited Nigeria for the ThisDay awards.
Before the President Barrack Obama's delegation to Babangida, the US and European Union had lamented the uncertainty in Nigeria, caused by the absence of President Yar'Adua. In a joint statement signed by US Secretary of State, Hillary Clinton, British Foreign Secretary, David Miliband, France's Foreign Minister, Bernard Kouchner and European Union High Representative, Catherine Ashton, the US and EU noted: 'Nigeria is going through a period of uncertainty because of the prolonged illness of President Musa Yar'Adua. Nigeria's stability and democracy carry great significance beyond its immediate borders, given its importance as a global oil producer and stabilising force in West Africa.'
In the quest to help Nigeria get stability, the US therefore, wants a leader it thinks would build institutions, as President Obama earlier suggested.
However, apart from the US, it was gathered that Nigerians, especially power brokers in the North are also putting pressure on Babangida to join the race for next year's presidency.
Maryam death angle
It was gathered that the death of Babangida's wife, Maryam, last December 27, served as a rallying point for some politicians, who want Babangida back at the presidency. Within the period when Maryam was buried and her 40th day fidau, paraphernalia of offices of state governments across the country literally relocated to Minna. At Minna even though politicians came for mourning, there were reconciliation of political foes and realignment of political forces.
Initially, there was the belief that the death of Maryam would sound the death knel on Babangida's comeback hope, but the goodwill that came with it boosted the confidence of the retired general, it was gathered. Babangida's confidant said that the manner Nigerians, from all walks of life sympathised with him, during his trying period, humbled Babangida the more and made him to hope that an opportunity would come for him to reciprocate by giving the Nigerian people quality and good governance. The message of appreciation he sent to Nigerians conveyed his emotion on the love Nigerians showed his family.
In the message, he stated: ' My dear compatriots, you have once again stood by us at a time and moment when my family and I need your support, consolation and prayers.'
The North's thinking
It was gathered that the northern political elite, believing that it gambled and lost out with the Yar'Adua presidency, thinks that with a candidate like Babangida the geopolitical zone will bounce back to political reckoning, just as General Olusegun Obasanjo brought back South West to political relevance at the federal level.
Sources said that the declaration that no serving or former governor from the North will succeed Yar'Adua was part of the signal to draft Babangida into the race. Indeed, a frontline northern critic and retired Army Major, Abubakar Umar, had warned that the northern governors, who are nursing the ambition of succeeding Yar'Adua should bury such plans. According to him, none of these northern governors is competent to rule the country. He said that some of the governors, apart from their dismal performance, were found wanting when the Economic and Financial Crime Commission (EFCC) checked their books.
Considering the offer
It was gathered that Babangida is considering the offer to succeed Yar'Adua. He is said to be examining the various forces angling for his entry into the race, to ascertain if they mean well or just want to drag him out and disgrace him. Also, he wants to be sure that Nigerians would accept him.
Sources close to him said that one of the ways the former Head of State wants to find out how Nigerians feel about him was for his associates to commission a research to find out how Nigerians would receive his entry into the presidential race. It was gathered that this move is preparatory to him officially declaring to replace Yar'Adua next year.
Former national treasurer of PDP, Dr. Godwin Daboh, who is among those putting pressure on Babangida to join the 2011 race, had said that result of research conducted in the six geopolitical zones showed that over 70 percent of Nigerians want Babangida in the presidency in 2011. This seems to have buoyed the confidence of the group, which are surreptitiously revving their political structures.
With such finding, associates of Babangida have subtly started making comments to prepare the ground. One of his former aides and ex-military intelligence officer when Babangida was in power, Captain Sagir Mohammed (retd), recently said that the constitution is clear on who could be presidential candidate. According to him, 'the Nigerian people who decide who becomes the president have not, in any way, foreclosed his possibility of becoming the president and we have no proof that those few who want him not to contest, represent the view of Nigerian people.'
He remarked that General Babangida holds the record as one of the greatest leaders that have ever ruled the country, since the period of amalgamation, adding that he has a record of achievements unsurpassed by many Nigerian leaders before and after him. The former military officer said Nigerians now have the unique opportunity of comparing the Babangida regime with what the country has had after him.
Resurrecting political structures
It was gathered that Babangida has refused to disclose his political activities for fear of being accused of contributing in heating up the polity and destablising the Yar'Adua government. Sources said that he wants to meet with President Yar'Adua, to ascertain his plan for 2011 before making a public declaration on his intention.
In the meantime, it was gathered that his political associates have started resurrecting his political structures secretly, preparatory to his declaration.
One of them, who pleaded anonymity said: 'We are now resurrecting our structures because it is evident that going by the internal and external pressures mounted on IBB to run for 2011 presidential election, he would succumb. The unity and progress of this country is very uppermost in his mind.'
His clout
Events have proved that Babangida is a force to be reckoned with in PDP and the polity. In 2006, many people picked nomination forms for various offices because Babangida was expected to run for the president. Some of them, especially those who wanted to be governors, had actually paid the non-refundable N2m to pick nomination forms. They, however, dropped their aspirations when it became clear that Babangida was no longer interested in the presidency, following the aspiration of Yar'Adua. Babangida had put what happened into perspective then when he said that he pulled out because he did not want to go into a contest with any member of the Yar'Adua family because he saw them as his brothers. He revealed that Yar'Adua's father had told him not to ever do anything that would put him on collision course with any of his children, as they grew up together.