Striding with Oprah Winfrey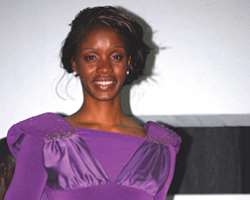 EVERYONE who has encountered Ifunanya Maduka's CV since she emerged The Future Awards Professional of the Year 2010 has been very impressed. At barely 26, she is Dean of Students at the world famous Oprah Winfrey Academy for Girls. Here she shares a bit of her story:
Ever since The Future Awards 2010, there's been a buzz around the name Funa Maduka — like everyone is excited to discover this young Nigerian —how does that make you feel?
It's a humbling and grateful feeling, and I'm excited too — especially if it inspires those younger to achieve more.
Tell us about yourself
I think one is defined most concretely by her passion. I'm passionate about making a difference in the world; it's what drives me each day.
What was your response when you were first contacted on your nomination for The Future Awards?
I was impressed by the initiative, first and foremost. It's wonderful that there's a movement of young people working tirelessly to get our country back on track. It was an honour to be identified as being part of the "new future" of Nigeria.
Describe your work?
I've been the Dean of Students of the Oprah Winfrey Leadership Academy for Girls for three years now. I am responsible for the creation of a management structure for the division as inaugural Dean of Students at the academy. I served as special projects manager to Oprah Winfrey, a former Wall Street financial analyst on the Goldman Sachs trading floor with the firm's International Sales Desk and worked with Former President Clinton's HIV/AIDS Initiative in the Caribbean.
Interestingly, you have worked with big names such as Oprah Winfrey and Bill Clinton, how did you get the jobs?
It was tough; there were lots of interviews for both roles. Both were demanding jobs, but I grew tremendously from both experiences. I was given freedom to innovate and that was important to me.
So young and being Dean of Students is surely unusual; how do you feel being a Dean?
Yes! I can't tell you how many times I introduced myself, as Dean of Students and the person, disbelieving would only hang onto to the word "student." The next question would be, "so, what grade are you in?" But my youthfulness helps to relate to the girls, it's important for administrators to stay close to the ground. Youths need adults to communicate to them in their language – I'm not talking about slang – so, they will not think you are corny. It's about taking the time to really listen and understand them. I believe that I have learned more from my students than I have ever taught them.
Any plans of creating the Academy in Nigeria?
The foundation is fully focused on the school in South Africa. It takes time to get a school fully established. Besides, the Academy is only beginning its fourth year in operation; so, it's one step at a time.
What are the challenges you face as a young administrator and how do you overcome them?
It's not easy being the youngest person in the boardroom, I'm sure you can imagine the challenges. But I think it all comes down to respect. I respect what those older, younger, junior, senior, to me have to say and I accept that learning is a life long activity. Also you've got to be confident, when you have confidence in yourself, others will have confidence in you.
Your profile reads project manager, then financial analyst, later Charity works, and now an administrator — it's all very Nigerian, the 'hustle' spirit, isn't it?
That's funny, I'm sure my profile must look that way, but none of this was planned at all! I just kept working hard and thank God for the doors He has opened for me.
For a 27 year old with this extensive CV, what are the heights left to conquer?
I definitely want to continue my education; I'd like another degree, so that's my next goal.
Should you get the same offer — DSA — in a tertiary institution in Nigeria, would you be interested?
I think it would have to do with the mission of the institution; that's what attracts me to any organisation. It's going to sound ethereal – but what's the soul of the organisation? What do they believe in? Why do they exist? If the answers to these questions align with my own intentions and what I might offer, then sure, I'd consider such offer.
What impacts have you made in your field/organisation in the past one-year?
It is definitely with my students. At the end of the day, after all the meetings on policies and programming, it was the mentoring and coaching with my students that meant the most to me. This is true for anyone, who works/lives with children – every moment is a teachable moment. By impacting one, you can impact many.
Have there been any missteps in the job that stand out in your mind?
It's hard to remember a specific example… mainly because I mostly hold on to the lesson and not the misstep. One lesson is always to trust your instinct; it's your most important tool. I have doubted my instinct once, too many times, but I am getting more confident in trusting it more and more.
People say ladies are more emotionally complicated than males, how do you cope as a lady managing other ladies?
Girls are not encouraged to be "real." From birth, we are told to be sweet and nice all of the time. Society says that your goal as a girl is to make everyone like you. We're discouraged against showing anger or disappointment. As a result, we hide these feelings with the hopes to appear "good and happy" all the time. Whereas boys will just fight — girls (because we're taught not to confront) will gossip and whisper. So, my job is coaching the girls to understand that it's right to be angry, and more so, to tell others that you're angry, too. We must aim to raise authentic leaders and that begins with the simple – but challenging task – of being true of whom you are and how you feel all the time.
What would you say has been the highlight of your career?
I think being part of the foundation of the Academy was definitely a highlight. It speaks to my life cause – creating more opportunity for girls' education across developing nations.
Having tested the best of Africa and America, do you think there are disparities in the professional strides of both worlds?
I think Africa allows more opportunity for innovation than America – particularly in the professional fields. Everything here is new, we are constantly creating — new businesses, new ideas. While it might have already been done before in other countries (some might say, we're still "catching up"), in countries such as Nigeria and South Africa, we have the opportunity to explore, challenge and redefine old theories and methods. That's what the Oprah Winfrey Leadership Academy is attempting to do within the field of education.
Why did you leave Nigeria? My parents, both of them, received scholarships to study in the United States; so, we immigrated as a family, when I was very young.
Are you ever coming back to live or work here?
I'm definitely not ruling it out, every visit I make; I always want to stay longer. We'll see what God has in store.
What's your definition of the phrase 'The Spirit of a true Nigerian'?
A loving, compassionate, hardworking and honest spirit. I love that as a people; we maintain a solid inner strength and resilience, it's our determination that makes us to stand out.
What was your reaction to the Nigeria terrorist man's attempt?
I reacted similarly as I have to do to other terrorist attempts, with sadness and disappointment that one could be so blinded by hate. His singular act does not reflect on all Nigerians.
If you have three minutes to change something on earth what would it be and why?
Every girl on this earth would be educated, because when you educate a girl, you educate a nation.
Any role models/mentors?
My mother, first and foremost, I don't think I'll ever find a more loving and giving soul on this planet. While there are many mentors who I thank for contributing to my development, she's the one who built the foundation.
What is your driving force?
I have a strong faith and a close connection with God. He is my rock; my faith keeps me centred and definitely keeps me going.
Do you have any plans for marriage, soon?
No, not yet, I'm single.
What would you say is the greatest lesson, life has taught you?
To Love; every day, every hour and every minute.
What would you call embarrassing moment?
Ha! I will keep these to myself, although my students would probably share some.
You've met Oprah personally. That's a dream for many people! How is she?
She is incredibly warm, kind, intelligent and funny. Everything you see on TV is real, there is no off screen/on screen duality. She is as genuine as they come. She's a woman with a phenomenally generous heart.
Everyone talks of Oprah visiting Nigeria — why hasn't that happened?
I can't speak for her, but I know she appreciates the support of all her fans. She recently recognised Nigerian author, Father Uwem
Story by KENNETH OLIKO - The Guardian Life magazine