Nigerians angry over edo state governor for hosting BBA winner dilish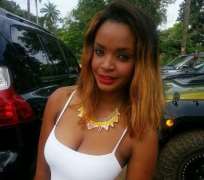 Since the BBA winner won big show prize we haven't heard of her like we hear of our own, It was reported over the weekend that the winner of BBA The Chase, Dillish came into Nigeria and was hosted by the Governor of Edo State, Gov. Adams Oshiomhole.
Dillish announced on twitter that she's in Nigeria, was surprised as not even the press knew of her coming.
she was given a Queen's reception and also made richer by the Governor.
Some Nigerians are not too pleased with the governor's action and gone to social media to vent their anger.
Here's what a cross section of Nigerians are saying:
★★PRINCE CHARMING™★★
Where is Beverly? Shouldn't she be first on that list? Well, nice one for Dillish, favour seems to encompass her.
Anonymous...
#smh gov oshiomole shuld hv bless our nigeria melvin n beverly who did'nt win nw. Well as d saying goes we dnt appreciate our own.
Anonymous...
Haba, this one no be authentic o!They didn't go to benin o!Dillish was in lagos first before going to Abuja then maria came in and straight to Abuja
Anonymous
And the rich get richer.. Next
Anonymous
Dilish enjoy ursef jare
Anonymous
Hmmmmmmmmm! Dz dilish take style be asewo o! She was indirectly flaunting n advertising herslef to d naija magas yil in d house now dey r hosting her secretly..ok o
BONARIO NNAGS
Our type of Government sha. misplaced priority tinz.
sweet delailah
Ok Dillish u can now leave our governor alone shebi u've gotten what u want...(HOOKER) tearing 100 metres race and dodging bullets
Oge franca
Hmmmmm enjoyment things.
Rough Diamond
Misplaced priority @d governor!
Hosting dillish is it ur foremost duty?
U know her from adam?
Mich
Really?
With tax payers hard earned money?
Enriching someone who already made herself a reasonable amount from not doing anything in a crap-hole house for 3months?
Whereas there are people in that same Edo state who can't afford three square meals,live in squalor and abject poverty?
A nation with misplaced priorities.
© 2013 Nollywoodgists.com
Click the link below to go to...
Genevieve Nnaji Rock $10,000 Chanel Lego Purse Bag
Revealed! How Actress, Lola Alao's New Husband Was Convicted For Fraud In Kuwait
Iyanya, Ayefele Sing For Jonathan Re-Election: Power Of Money
OMG Why?: CNN's Hottie Isha Sesay Marries
Could This Be Tope Alabi's reaction to Prophet Ajanaku's death? (LOOK)