SEVENTY CHANTS FOR AKINWUNMI ISHOLA IN LAGOS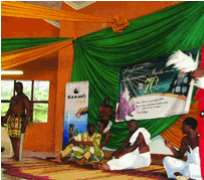 Seventy chants for Akinwunmi Ishola in Lagos
By FEMI SALAWU
Thursday, March 04 , 2010
Artistes performing for Ishola
Sometimes last year, foremost writer and author, Prof Akinwunmi Ishola woke to a pleasant surprise in his Bolajoko Estate home in Ibadan. Although it was his 70th birthday, Baba as he is fondly called did not plan to hold any special occasion. But Ayan Agalu Soun Gobi Foundation had orchestrated a surprise birthday package for him.
The culture-based organization of which Ishola is a trustee had rallied his friends and fans to storm his Bodija home as early as 6am. The short package for him which did not last more than two hours witnessed various activities such as Iwure (prayers), chants, cultural display among others.
Two months later on February 24, the foundation again staged a befitting commemorative event, which doubled as a lecture cum book launch of Saworo Ide in Lagos at the Afe Babalola Auditorium, University of Lagos (UNILAG). The event which was graced by Lagos State Governor, Babatunde Raji Fashola, SAN, as Guest Speaker was also attended by dignitaries including Elder Adebayo Faleti, Dr Fredrick Fasehun, Founder OPC, Professor Duro Oni, Dean, Faculty of Arts (who represented the VC), Arc Muyiwa Ige and Demola Aladekomo MD, Chams, Plc, and Chief Dele Momodu.
From the entrance of the hall to the interior part, the Yoruba culture in diverse forms over whelmed the audience. For instance, the female ushers who adorned traditional beads were gaily dressed in uniformed Iro and Buba outfits while Alagba Yemi Ogunyemi, compere of the occasion spoke in Yoruba language while the event lasted. Speakers who also mounted the rostrum including Governor Fashola spoke in Yoruba language. In addition, the event brochure was worded in Yoruba.
Guests were treated to special performances by the Ayan Agalu Soun Gobi Foundation troupe before Elder Adebayo signalled the beginning of proceedings with the Iwure which canvassed for long life and good health for the celebrant.
While lauding the celebrant for his contribution to the development of Yoruba culture and language, Governor Fashola noted that Prof Ishola's creative works have created rich materials for cinema and theatre that people have been enjoying. Some of these include classic films such as Saworo IdeI, Campus Queen, and O Le Ku both adopted by Tunde Kelani's Mainframe Productions. Some popular works by the writer include Efunsetan Aniwura (1974), Olu Omo (1983), Ogun Omode (1990), Madam Tinubu: The Terror of Lagos (1998) and recently Fabu (2008).
Fashola, who spoke on the theme The Role of Culture and Language in Yorubaland Politics, noted that culture is a veritable tool in governance. Explaining the relationship between culture and politics, he said, 'They are like fingers in our hands that are collectively necessary and they interact interpedently for the hands to function properly. You woo people to your side through identifying with them.'
On why the foundation decided to honour the celebrant, Morakinyo Daramola, Project Director, disclosed that apart from his contribution to the foundation, Prof Ishola was being honoured for his consistent input to Yoruba cultural renaissance. His words, 'We are not waiting till our icons are dead before we celebrate them. At Ayan Agalu Soun Gobi Foundation, Prof Ishola is worth this and more to us and indeed the entire Yoruba race.'
One of the major attractions of the event was a short drama sketch from a play by the celebrant entitled Belly Bellows. The 25-minute drama was presented by University of Ibadan based Oracles Drama Troupe. The folkloric story which is essentially built around women revolves around Oya, the legendary Yoruba heroine. Owing to inhumane treatment by her husband, Ogun, she abandoned her matrimonial home for a more caring Sango. This led to a legendary rift between Ogun and Sango.
Other highlights of the occasion include unique performances by Kola Bata and his Bata drummers as well as the snail drummer, Dr Tirimisiyu and his troupe.