Jim Iyke Tweets About TB Joshua Being Real Or Fake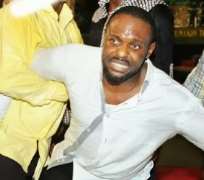 Actor, Jim Iyke was trending online a few weeks back after he was 'delivered' of an evil spirit at TB joshua's Synagogue church of all nations...this caused a lot of frenzy among fans and even fellow celebs who taught it was staged.
People have been tweeting at jim iyke telling him that TB joshua was fake and this was his response....*lips sealed*
>

© 2013 Nollywoodgists.com
click the link below to go to...
MORE Detained Jim Iyke's PICTURES
N15m Scam: Jim Iyke's Aged Parents Begged Me, Case Not Thrown Out Of Court--Habiba [Attached evidence].
STAR ACTOR JIM IYKE IN FRESH TROUBLE.
ACTOR JIM IYKE ANSWERS FRAUD ALLEGATIONS CRITICS.
STAR ACTOR JIM IYKE IN COURT OVER N15 MILLION FRAUD.
ACTOR JIM IYKE PARADES TWO NEW AUTOMOBILES WORTH $100,000,BUILDS CLOTHING MALL WORTH N90 MILLION IN ABUJA.
THE MANY SCANDALS OF STAR ACTOR,JIM IYKE.
FRAUD ALLEGATION SCANDAL:WHY ARE PEOPLE MAKING SUCH A BIG THING OUT OF IT ?-JIM IYKE.