Video Club Owners Assault Jide Kosoko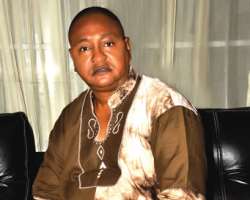 JIDE KOSOKO BEATEN BY VIDEO CLUB OWNERS …as Yoruba marketers declare VROAN president, wanted Featured

E24-7 MAGAZINE
Veteran actor, JideKosoko, last Friday morning, October 11th, 2013, confirmed to Nollywood Insider that he was actually assaulted and injured in the fracas involving members of the Video Rental Operators of Nigeria (VROAN) and some Yoruba movie makers and marketers. The ace thespian said, "I was injured in the debacle but I would not like to comment further on it on the telephone."
Meanwhile the President of VROAN, KassimOlatunbosun aka Boe, has been declared wanted by his members and the police. He is accused of wanton embezzlement of public funds at his disposal. Kassim is said to have mismanaged the royalties for marketers and film producers that his members paid into the coffers of VROAN over the last two years. They also claimed that he refused to call for elections after staying in office for more than 10 years.
According to information made known to NOLLYWOOD INSIDER, after a long meeting at the Cultural Center, Alausa, Ikeja, on Thursday October 10th, 2013, by his members and other concerned stakeholders, the enraged crowd besieged his Onipanu office calling on him to render account of his stewardship as VROAN's henchman. However, on sighting the crowd while he was having his weekly meeting with executives of the association, Kassim managed to scale over a high fence into oblivion. This was after JideKosoko and a few others had sustained injuries during a fight to apprehend Kassim.
JideKosoko spoke further on the incident, "Actually, I am a member of the Board of Trustees of VROAN, and we had been getting several reports that the president of the association, Kassim aka Boe, has been in the office for close to 10 years. We have received several complaints that his tenure has since lapsed, and that there should have been an election, but he insisted on staying. This is coupled with other atrocities of his, so the BOT had to invite him, but he refused to come to any of the meetings on several occasions. He goes about with thugs with dangerous weapons, most of whom are not owners of video clubs.
''When his members wanted to make trouble with him, we said no that they should leave the matter to us, the BOT. I advised him personally, but he refused to yield to advice. He then wrote a letter saying he will hold elections in December which angered his members. The BOT then took some policemen to his office, only for us to get there and find thugs all over the place. They thereafter got violent with us, and one of them threw a bottle of water at me; using charms to threaten us."
Meanwhile, JideKosoko disclosed that the matter is now with the Nigerian Police Zone 2, Lagos.