When M.I. Was A Year Older!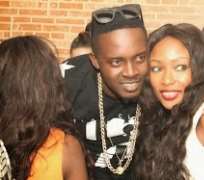 Multiple award winning rap lord, M.I celebrated his birthday recently and it was indeed a day of joy for him.
The day was last Friday, October 4, 2013 at Cafe Venessa, victoria Island, Lagos where he got a surprise treat from friends.
M.I. was surprised to see his colleagues such as Davido, Noble Igwe, Victoria Kimani and others who teemed to felicitate with him. Congrats the birthday boy. We wish you many more of this on the surface of the earth!
>

Click the link below to go to...
Ebube Is Looking For My Trouble**I Don't Know Why She Hates Me--Anita Joseph Fumes
SHOCKER ! VARSITY UNDERGRAD,UCHE DIES-----
He frustrated me till I aborted the first pregnancy, now I'm pregnant again
15 REASONS To Know If Witches Follow You From Your Village
Eniola Badmus In 'Red-Hot' Romance With Davido?
NOLLYWOOD ACTRESSES AND PASTOR ITUA IGODALO FIGHT DIRTY INSIDE CHURCH
The British government set to withdraw support for Nigerian corrupt officials and children
Grammarian, Patrick Obahiagbon Speaks On Prof. Sofoluwe's Death