Saheed Osupa Debunks Swollen Stomach Tale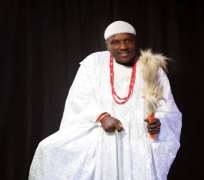 Popular Fuji star, Dr Saheed Osupa, fondly called Saridon Pee, has debunked rumour making the rounds that he is ill. A national newspaper had published a story few days ago that the talented Fuji lyricist was allegedly suffering from a swollen stomach.
In a statement made available to Nollywoodgists.com through his media representative, Ola Media Concept, the singer said nothing of such happened to him.
Saheed Osupa said in the statement that, "it is not in my practice to respond to false stories written about me because I've discovered that most of the journalists that exist lately are mostly lazy and unprofessional in their reports."
He also also disclosed that, "I have to react to this because many of my fans home and abroad even my children abroad are worried and calling to know my well being."
He added that, "those who must have been following the trend will know that nothing is wrong with me as I performed last Saturday at Badagry and Ajegunle on Sunday both in Lagos."
He thanked his for for their support and prayers and hinted of the release of his new album, which will hit the stands on October 15, 2013.
© 2013 Nollywoodgists.com
Click the link below to go to...
Breaking News: So Shocking, Plane Crash In Lagos [Picture]
Dead Amongst D Dead... Aircraft Carrying Agagu's Body Crashes In Lagos, Killing Atleast 9
Video Of Crashed Plane Carrying Agagu's Remains
PHOTONEWS: Plane Crash In Lagos, Agagu's Casket Remains Intact
PLANE CRASHED UPDATES: LIST OF VICTIMS ON BOARD RELEASED
Lagos Plane Crash: Agagu's Remains Recovered [Pictures]
Plane Crash: Star Actress, Stephanie Okereke Sends Her Condolences
Susan Peters Question Agagu's Death
Lagos Plane Crash: Hoodlums Fighting Over Victims Possession​s