Video: watch busting trailer of 'October 1′ film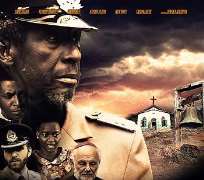 Cinema lovers are on the 'Go' mode as talented film maker Kunle Afolayan finally releases the trailer of his highly anticipated movie October 1 which should hit cinemas nationwide soon.

The film like all of Kunle Afolayan's previous movies including the award winning figurine rides on the back of a gripping story-line…
Read the synopsis…
It's September 1960, and with Nigeria on the verge of independence from British colonial rule, a northern Nigerian Police Detective, DAN WAZIRI, is urgently despatched by the Colonial Government to the trading post town of Akote in the Western Region of Nigeria to solve a series of female murders that have struck horror in the hearts and minds of the local community. On getting to Akote, more murders are committed, and with local tension high and volatile, Waziri has a race on his hands to solve the case before even more local women are killed…
The film's producer had initially planned to release it on the nation's independence day October 1 but had been unable to meet the deadline. Kunle is however expected to hit the red carpet with it before the end of this month.
Watch video of the trailer here.