V.Mobile Shares & Money Laundering: Attah has no case to answer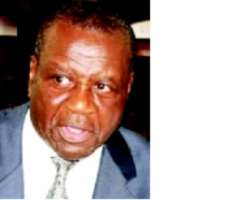 Contrary to claim by Mrs. Farida Waziri that the Economic and financial Crime Commission had not cleared the former of Governor of Akwa Ibom State, information in our possession reveals that
EFCC actually gave Victor Attah a clean bill of health on the Vmobile sale vis-à-vis laundering charges and defroze his account on January 21st 2009.
When the story of the culpability of Attah, Tinubu and Ibori, as regards the Vmobile (Zain) Network broke, the Economic and financial crimes commission distanced itself and issued a media advisory, which reads:

"The Commission wishes to state emphatically that it has not at any time or in any correspondence with the persons referred to in these media reports or any other person cleared them of complicity in all matters relating to them which are either in court or still under investigation".
"It is therefore inappropriate to input or infer that the three former governors have been exonerated in matters that are still pending or yet to be determined by the law court which is the only competent organ of government that can pronounce guilt or innocence in matters like the ones under reference".
"The Commission has to make this clarification in view of the volume of enquiries from concerned Nigerians so as to lay to rest all doubts and insinuations as to the position of the Commission and its leadership in all these".
"The letter being referred to in these reports has no specific impact or reference to the cases of the three former governors as it was only an advice to a bank on the operation of a company's account and as such cannot speak for substantive cases being investigated".
"While not adjudging anyone guilty until proven so, the Commission wishes to restate that it has not in anyway declared the three former governors innocent of the allegations for which they are being investigated', the statement said.
However, according to two documents made available to huhuonline.com by the former governor – one issued by the EFCC and the other by a Lagos High Court – no case of money laundering was established either against him or Akwa Ibom Investment and Industrial Promotion Council (AKIIPOC), his government's agency that handled the sale of the state's shares in V.Mobile (Zain) networks.
The EFCC document, a letter, dated January 21, 2009 and signed by one Umar M. Sanda on behalf of the Executive Chairman and addressed to African Development Fund Incorporated (ADFI) Lawyers, exculpated AKIIPOC of allegation of money laundering in its dealing with ADFI with regard to the sale of V. Mobile shares.
EFCC letter read in part "investigation into this matter is concluded and no case of money laundering established against your client. Subsequently your client's accounts defrozen."
Based on this and subsequent application by the prosecution to withdraw criminal charges against AKIIPOC, Justice M. Olokoba of a Lagos High Court accordingly struck out the charge of money laundering levelled against ADFI.
It would be recalled that Attah's political detractors wishing to tarnish his image have persistently read criminal tendencies into the $67.5 million Akwa Ibom State investment in V. Mobile which was sold to Celtel in excess of $204 million through the instrumentality of ADFI.
Little wonder why transparent dealing in which AKIIPOC paid ADFI a brokerage fee amounts to just over eighteen million US dollars and a local legal fee amounting to about two million US dollars came to be the concern of Metropolitan Police in London even when the EFCC had meticulously investigated the matter for about two years and concluded that there was no case of money laundering against his government.
Obong Attah said that "AKIIPOC's transaction with the ADFI and Celtel was not only transparent and genuine but also profitable as the state had emerged from it more than N20 billon richer said a source close to Victor Attah".
He explained "that it was with the proceeds that his government started the airport project that saw an aircraft land in Akwa Ibom State last September.
Besides, the airport project, the Independent Power Project meant to ensure regular power supply in Akwa Ibom State and the country in general was also begun with part of the money realized from the sale of V. Mobile shares".
This shows, like in the case of Tinubu, that Attah has nothing to be cleared for by the EFCC as regards the V-mobile share purchase and sale. That an institution under Attah as governor was investigated and eventually cleared by the EFCC does not translate to Attah being involved in the matter. Thus observers wonder why the London Metropolitan Police must involve the ex-governor in the case.
It should be recalled Attah was once inadvertently included in the draft publication of the Africa Peer Review Mechanism (APREM) among those tagged as "corrupt governors", and as a result he took the federal government and APREM to court. The matter was later settled out of court with N25million paid to Attah as damages, apart from full page advertorials in many Nigerian newspapers and in the APREM subsequent publications, absolving him of any crime whatsoever.
It would also be recalled that Attah while in office was the only governor who, based on an avalanche of petitions against him, openly requested President Obasanjo to invite the EFCC to investigate him.
An attempt to reach Femi Babafemi was unsuccessful