Police Fraud Unite Arrests Visa racketeers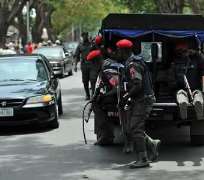 The Special Fraud Unit has arrested some Visa Racketeers who specialized in forging Visa for prospective travelers.
A petition to the Commissioner of Police by the British Deputy High Commission reported that one Jude Oseiwe Esebanmhen with Nigerian Passport No. A04701778 applied for a 6 month visit visa on 6th June, 2013 but the visa application was rejected. He stated further that the suspect later applied for a Spanish visa with a fake UK Entry Clearance Visa on his passport in an attempt to use deception to obtain the visa, but the visa was checked by a trained forgery officer and was discovered to be forged.
According to the Unit's spokesperson,DSP Ngozi Isintume-Agu,   The suspect, Jude Oseiwe Esebanmhen was arrested and he confessed to the crime. He is 26years old from Esan North-East Local Government of Edo State and a graduate of Ambrose Alli University.
He admitted that he met a travelling agent who promised to assist him to procure a Spanish visa. The Agent introduced him to one Mr. Olawole who unknown to him forged the document and stamp on the passport. He also stated that the passport was submitted to the Spanish Embassy and he was later called by the Embassy for collection of his visa and subsequently was arrested.
Charles Abayomi Sanusi , A 40 year old Concrete Fabricator from Osun State. According to him, he is not an appointed agent but assist prospective travelers to procure visa to London, Spain, France and other documents like hotel reservation, insurance certificate, ticket, invitation letters, employment documents and statement of account.
He confessed that he procured the fake documents for the principal suspects. They fake documents which include letter of appointment, statement of account, fake visa, fake arrival and departure stamps of Benin Republic, Cote d'Voire, Togo, Ghana and U.K. He further stated that all the fake documents were procured through the assistance of one Alhaji Oyekanmi who normally meets with him at CMS. He also stated that he uses his friend's office at Shogunle for visa consultancy and has procured for 3 other applicants and has never worked in an Embassy in his life. He admitted that he collected the sum of N150,000.00 (One Hundred and Fifty Thousand Naira) for the service.
He further stated that he has travelled to U.K. on several occasions but was convicted for 5months for Credit Card fraud and was later deported to Lagos, Nigeria in 2008.
The 2nd suspect admitted that he master minded the whole crime through one Alhaji Oyekanmi who is still at large.
The police said Investigation is on-going and that  effort is being intensified to arrest the fleeing suspect.