How Father's Death Forced Ronke Oshodi Oke To Return To Nigeria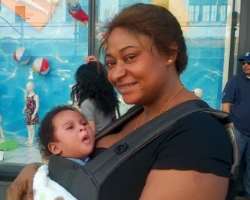 For many months after her childbirth in the United States of America (USA), popular Yoruba actress, Ronke Ojo well known as Ronke Oshodi Oke, remained in the Barak Obama led country. It was almost being speculated by some mischief makers that she was stranded in America, which was why she couldn't return to Nigeria to let her husband to see his child.
But we have now found out why after many months away in America, Ronke decided to bring her baby to Nigeria for her hubby to see.
We reliably gathered that while the well-endowed actress was in America, her father reportedly fell sick. Two days later, he died. The news got to her, she was devastated by it and was left with no other option than to rush to Nigeria to see to the burial arrangements of her late dad.
Ronke Oshodi Oke, as we learnt, would not have returned earlier than she did if not for the unfortunate incident.