JTF impounds two crude oil-laden barges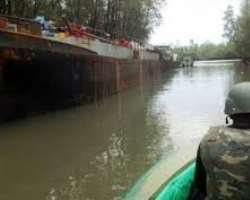 THE Joint Task Force (JTF) 5 Battalion at Sector 2 area in the Niger Delta has impounded two barges laden with illegally sourced crude oil.
The made the catch  along the Kasabobo Creek during a week-long anti-oil theft patrol targeted at sanitizing the Southern Ijaw local council creeks and waterways in Bayelsa State.
The troops, under Brig.-Gen. Osasogie Uzamere, had embarked on the operation following reports of persistent oil theft in the area despite regular clampdown by the JTF.
The Joint Media Coordinator of the Command, Lt. Col. Onyema Nwachukwu, said in a statement in Yenagoa that the barges, CWTC 16 and TIKORO 2, with eight compartments each filled with stolen crude, were intercepted on the way into the international waters through Forupa channels.
The  troops also carried out raids on illegal crude oil distillers along Ogbenibiri, Kugbie and Forupa in Southern Ijaw, where they dismantled eight illegal crude oil distillation sites and scuttled seven steel reservoirs deceptively buried in the ground and concealed with canopies to prevent detection, he said. .
In another operation in Delta State, troops of 3 and 19 Battalions covering the JTF Sector 1 area have arrested seven pipeline vandals in Atiowowo, Kolokogbene and Ejere junction of Warri North and Warri South local councils.
The arrest led to the detection and scuttling of five illegal distillation sites, 15 open wooden boats (Cotonou boats), 10 surface tanks and 112 drums.
Also recovered from the suspects were a hand-drilling machine, drilling pipe, hoses, hammers and cutlasses.