Abortion Saga: Rochas Okorocha Bows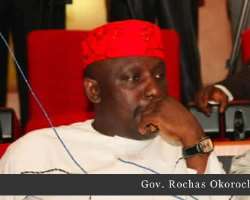 OWERRI - Governor Rochas Okorocha Tuesdday, bowed to the superior fire power of the fiery Catholic Archbishop of Owerri Ecclesiastical Province, His Grace, Dr. Anthony J. V. Obinna, over the obnoxious abortion law.
The Governor, who retraced his locus when he addressed members of the State House of Assembly, appealed to he lawmakers to immediately commence the processes of expunging the offending sections of the obnoxious law.
'I have always loved children. I fell for this law as soon as I saw the safeguards it contained for the protection of our women', Okorocha explained.
According to the Governor, a law is as good as the acceptability by the people for which it was made and used the opportunity to appeal to the lawmakers to repeal the offending sections of the law.
'I make this appeal because my political opponents are waiting patiently for the outcome of this unfortunate abortion saga. It is no worth the trouble to keep this law longer than necessary', Okorocha said.
It was his considered opinion that the law unfortunately touched on the sensibility of church leaders, who he claimed, remained the pillars of his administration.
Before anchoring his speech on the abortion law, the Governor had earlier given a rundown of what he termed 'the successes of my administration in the past two years and half'.
While saying at government had already released N5 billion to the contracting firm handling the Akachi Towers, Okorocha however expressed regret that te project had suffered some setback.
'Over 350 kilometers of rural roads have been tarred. All projects started by this administration will be completed within the tenure of this administration', Okorocha promised.
Responding, the Deputy Speaker, Mr. Donates Ozoemena, who also superintended over the day's sitting, said the House was roundly misunderstood by the citizenry.
'We had the noblest of intention when we passed the Bill. It went through the processes of law making. We promise to repeal this law to conform to the wishes of Imo people', Ozoemena said.
This  vexatious law was signed by Okorocha since May 29, 2012, and remained silent until Dr. Phillip Njemanze drew the attention of Archbishop Obinna to it.
Addressing journalists last Friday, Archbishop Obinna not only demanded that the offending abortion law must be repealed but had also held a meeting with his priests to strategize on how to battle the anti-life legislation.
Vanguard