Ibinabo's AGN Presidency: Popular Actor, Ochendo Seeks Court's Interpretation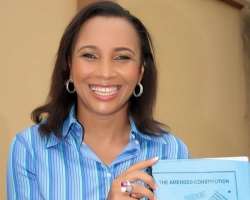 Come Wednesday, September 18, 2013, all roads will lead to the Federal High Court, Ikoyi, Lagos in an effort to seek the interpretation of the court on whether the President of the Actors' Guild of Nigeria (AGN) , Ibinabo Fiberesima should hold the post or not.
Popular Nollywood actor, Mc Smith Ochendo is contesting the presidency of the former beauty queen, who he claims should not head AGN based on a section of the guild's constitution, which he claims forbids an indicted or ex-convict from being President of the guild.
Ochendo tagged his fight as the 'Battle to save AGN from imminent collapse'. According to him, "I am not fighting Ibinabo, I only want to know if Ibinabo should be AGN President or not. There is nothing personal in this."
Ochendo further said, "I am only asking the court to interpret the section 4U of the [AGN] constitution which reads, 'a candidate for election shall in addition to any other credentials, not at any point in time been convicted by a court of competent jurisdiction or a tribunal under any indictment."
Ibinabo keenly contested the election with the duo of Steve Eboh and Emeka Rollas in 2012 and she won by majority votes. Since then, she has embarked on some reformation to the surprise of those that are not involved in the politics of AGN.
Her tenure has caused many A-list stars to embrace AGN as against what it used to be in the past. However, Ibinabo has been fired from all corners both within and outside the guild. Her Presidency has been questioned, while some of those who earlier worked for her are pitching their tents against her.