I have realized that fashion means presence –Terry G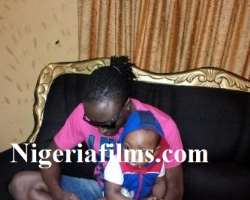 Everyone knows him as that talented musician who could craft sounds into a hit music, but too controversial, suddenly the story changed. He turned into an overnight gentleman, too corporate alike that corporate companies and agencies are now offering him endorsement deals unlike before. Now, everything about Gabriel Amanyi, otherwise known as Terry G has totally changed, but his talent is perfectly intact and improving. In this enthralling interview with Ugochukwu Favour-Mayor, the father of one tells it all on his present corporate outlook, new album, marital life and other issues you need to know.
Excerpts:
You launched your album recently in Abuja with the 'Book of Ginger' Concert
Yes, the concert was really a successful event with the support of my adopted Area Father, Charley Boy; who joined with the street awareness for the event, the reception and the crowd was awesome and massive because we did a huge publicity for the event and we had all the media houses supporting, though we did a huge publicity which made the place to be jam-packed and it was a successful show after all.
Tell us about your new album.
The title of the album is 'Book of Ginger' and it has to do with showing the other side of my music career and my personality. It talks more about my new person, my new identity.
How many tracks are there in the album?
I have 22 tracks recorded in the album which has pages and chapters including content that makes it a book.
Why do you have so many tracks in the album?
No, I had always been having this problem, it usually comes when the compiling of the tracks to make an album, I don't do songs because I want to release an album. I record almost every day and when it's time for me to release an album, I usually have problems of selection and I won't know the one to drop or pick and people around also add to the problem because they also want their favourite songs in the album, so not that I am purposely doing many tracks, it is based on demand and choice.
How does it feel to be a father?
It's the happiest thing that has ever happened to me. There is always a feeling one has never felt before, especially when it is the first time. It's full of new experiences, and the truth is that it has brought good luck to my life.
Has it changed anything about you?
Yes, definitely. It has changed my lifestyle; I'm now a homely man, always at home playing with my kid. It has made me to be calm.
Tell us about his mother, Mimi?
She is lovely, understanding and very intelligent. It is always difficult to find the right partner, but I'm lucky to have found her.
How and when did your paths cross?
Mimi and I have been together for five years now. We have also been working together, she has been in charge of my music affairs, and when it comes to the organization of my projects, she has been quite supportive. Though, she doesn't come out in public, she has been awesome.
What attracted her to you?
I told you it is very hard for men of nowadays to find the right woman. What I was looking for was a homely girl; that is the best attraction any man can get. Even your mum will tell you that you must bring home a responsible girl. That is the image she has.
What's your definition of fashion?
Fashion means presence; it is value and determines how people rate you.
You pierced several parts of your body. Don't you get uncomfortable with it at times?
You wouldn't want to do anything that makes you uncomfortable. The only way it might inconvenience you is when you listen to the negative things people are saying. So, if you want to do something, do it the way it pleases you. I'm comfortable with my piercing.
If you have the privilege to change something about yourself, what will it be?
I love driving, and I deny my driver of his duties most times. Maybe I need to change that. But talking about my person, it can't change. You can't change what brings food to your table; so far it is not negative.
Terry G has been in the news for negative and terrible reasons, but all of a sudden, Terry G just went under, what made you calm down?
Sometimes you see life changing constantly and sometimes you see it in a different way and different platform. I just saw so much values in my life and the future, when I say my future it has to do with my kids as well you know, so I started changing a lot of things and it actually scared away a lot of negative friends from me, it helped me scare them away, it helped me resolve myself and also helped me re-arrange myself.
Are you planning on marriage?
Marriage will come when it is time, I will let people know, but marriage is not something you rush into just like that; it is life that is more meaningful from the previous life we live before being married.
Where did you meet the mother of your baby, because you seems to have a negative image and it assumed that is not easy for a woman to put up with you?
I met her in the United Kingdom. There was a concert I attended in London; that was my first major performance in London, so we met there. I met her through a friend, so we just started chatting. What actually happened was that she got amazed knowing that I was Terry G, she wanted to know more about me but when she saw the other side of me, she got interested because there is a difference between Gabriel and Terry G. Now we are able to transform the relationship into a family and I am also more responsible with her beside me.
Would you say you are now fulfilled?
Yes, I'm fulfilled. The Bible says that whatever you say with your tongue shall come to pass, so I'm fulfilled.