AT LAST! MC OLUOMO OPENS UP ON HIS ROMANCE WITH TOP YORUBA ACTRESSES+ SAYS ALL MEN ENGAGE IN EXTRA-MARITAL AFFAIRS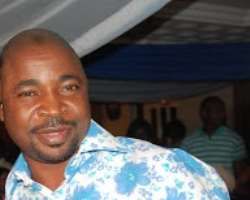 Socialite and National Union of Road Transport Workers( NURTW )Boss, Alhaji Musiliu Akinsanya popularly known as MC Oluomo is a popular dude who has cut his teeth in various ventures.
He is a good promoter of showbiz in Nigeria.
Oluomo, whose profile is on the rise, is one of the few young men from Osodi who dominate the Lagos social circle.
Whenever his presence is announced at any party, babes go wild with excitement and that's because he has got a lot of money to throw about and he sure knows how to spend it noticeably which usually makes him a centre of attraction at any event he attends.
The happily married man who has been romantically linked with top Yoruba actresses like Sikiratu Sindodo, Taiwo Aromokun, Bukky Wright,,Lola Alao, Lizzy Da Silva, Ronke Osodi Oke,Moji Olaiya, Fathia Balogun, Late Bisi Komolafe amongst others; said his relationship with movie practitioners is borne out of passion for art.
According to the Lagos richest area boy;" You see, I am truly very close to the category of people you mentioned. But there is usually the misconception by people that each time they see an actress around Mc Oluomo, they easily conclude that he is dating them. But it is not actually like that.
I came to develop vested interests in the art since my childhood days when we used to watch a Yoruba movie series titled 'Arelu' on the television.
I remember that each time the programme was on television, we would refuse to go and fetch water or run errands until after the play. And that was how the love for the arts started for me.
And it is not like I want to be an actor or a musician myself, but I like being around them when I have the time" Oluomo divulged.
But when prodded further that is he implying that he has no girlfriends; he drops the bombshell by responding thus;
"Having girlfriends outside? Well, any man that says he doesn't have a girlfriend outside his home is obviously lying. We all engage in it. So I am not an exception." He concluded