Kwankwaso complains about population commission chairman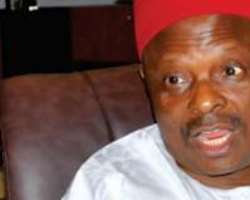 Governor of Kano State, Rabiu Kwankwaso on Friday lambasted Chairman of the National Population Commission (NPC), Mr. Festus Odimegwu, over his remarks on the 2006  population census.
The governor described Odimegwu's appointment as a big mistake.
If the former Nigeria Brewery boss was not a drunk, he would not speak so terribly ill of the 2006 census, the governor, who is vast developing a knack for attacking anything that does not conform with his ethnocentric vision, said.
Kwanwkaso while addressing State House correspondents after he met with President Goodluck Jonathan at the presidential villa, wondered why someone who had only alcohol as credentials throughout his career should be appointed to head a sensitive government commission like the NPC in the first place.
According to him,  all Odimegwu should have done was to quietly correct any wrong by his predecessor rather than condemning it in the public.
He said, "We are not happy about that appointment and think that it was a mistake. Festus shouldn't be there in the first place. Why; because, you see, unfortunately, somebody read his CV. He had only one thing in the alcohol industry, all his life. And my guess is that he's taking a lot of his products and that is why we feel that his appointment is a mistake because he cannot be the chairman of NPC and at the same time be attacking what his predecessor had done.
"Even if it was wrong, he now has the good opportunity to correct it, but instead of doing that, he has been running around to discredit the 2006 census."
Recounting the first time he came across Odimegwu, Kwankwaso said, "I just met that man when I was Minister of Defence, we had a military occasion in the East and just when we were about to finish, protocol came and told me that President Obasanjo had another thing to do, and I followed him and just went there and saw a big brewery.
"And they said he was the head but the way he was talking then, I knew immediately after the appointment that there was a mistake there."