Ice Prince Should Be Lynched, He's An Id*ot--Aggrieved Label Boss Fumes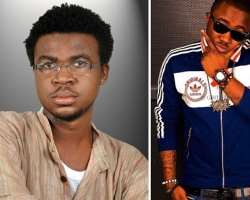 An aggrieved music executive by the name Onyeka Nwelue of LaCave Musik in Paris, France, has described fast-rising Nigerian rapper, Ice Prince as 'an id*ot and has advised he should be lynched'. Nwelue made this outburst on the Jos, Plateau State-bred rapper on a social media network on Tuesday after Ice Prince had apologised for getting to a show very late in Paris, France.
The rapper had tweeted on August 18, 2013 that, "apologies to the fans that came out last night in Paris... a better promoter will put up a better show soon!!"
The above statements by Ice Prince angered a friend of the promoter the rapper referred to in his tweet, who then replied Ice Prince with series of tweets.
"...Engaged in all sorts of publicity and running around, which I witnessed and even kissed your a*s the day you arrived the Schengen territory and all you could do was to appear at the show by 6am and then come to your Facebook to 'apologise' to the fans 'who came out' last night, that someday, a 'better show promoter' will organise an event for you, not knowing that it took those young men a lot of hardwork to convince people and tell people who you are," Nwelue tweeted.
"I used to think you were different from the other nitwits. You are a bigger c*nt. No apologies. Someday, we will stop hosting idiots like you in Europe and focus on the old ones; or maybe the Bongo, Fuji and traditional musicians from Nigeria will behave well, as I kept hearing people ask in Paris 'please who is Ice Prince?' Meaning you were not worthy of the complete stress. So, don't go fu*king around, you little boys," the record label boss said.
He also stated that, "there should be a 'Lynch Ice Prince campaign. Nitwit! Come to Paris again and behave like an idiot. I actually think you (Ice Prince) acted like a nitwit in Paris. Next time, think about those who came out in the cold for you first! You drowned people's reputation because of your selfish heart. Stop apologising."